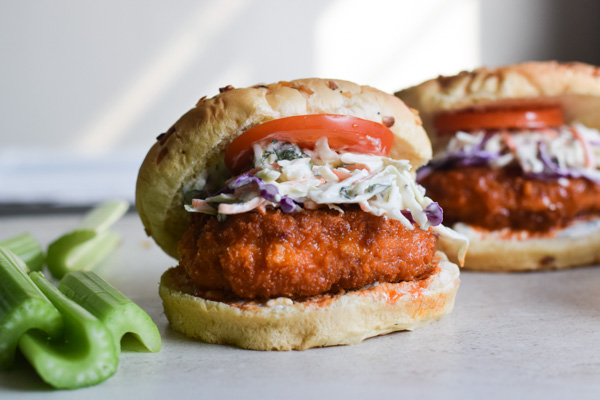 I am a person of many strong opinions. There is no doubt about that. None of my opinions are more resolute than the ones I have about food. Please skip ahead if you are easily offended by other people's food thoughts. Angel food cake is just a sweet sponge. A sandwich without meat is just a salad. Frozen yogurt is not a suitable substitute for ice cream. And burgers are made of beef. Chicken burgers, turkey burgers and other meat burgers, in my world, are sandwiches. Not burgers. Veggie burgers, bean burgers, quinoa burgers: these strange things fall under the aforementioned category of salad.
"Uh, Casey, you named this post 'Buffalo Chicken Burgers with Blue Cheese Slaw' though…" you are probably saying at the moment. And you're right, I did. Here's why: while in my house these are called sandwiches, in most people's homes (and according to various internet sources), any sandwich with a ground meat patty is technically a burger. So for the sake of not rocking the boat, I will concede this point to the internet.
I created this burger because I love sandwiches and I love wings. The idea to put the two into one easy to make, easy to eat (albeit messy, grab extra napkins), easy to love package was kind of a no brainer. I put this whole sandwich together in less than half an hour. LESS THAN HALF AN HOUR. Crazy, right? I know. I still can't believe it.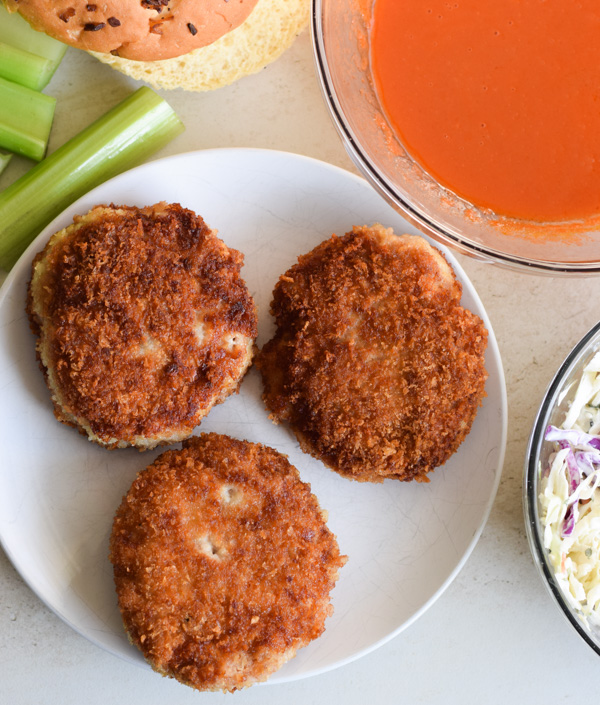 The best part of this recipe is that it's more of a method than a recipe. Dig barbecue wings? Swap barbecue sauce for the buffalo sauce. Don't love blue cheese? Just use ranch. Could you use a bottled blue cheese dressing? Yeah, you could… but for me, there's never enough blue cheese in them. Forget to buy coleslaw mix? Just use whatever green leafy situation you have in your fridge! These could easily be made into sliders, or a no-bun-lower-carb thing–obviously not my forte. My point? Make these oh so delicious sandwiches however you want. Just make them.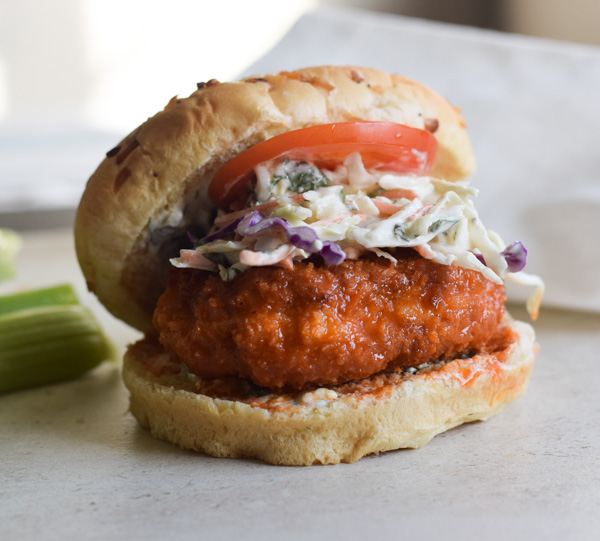 Obviously, if you come up with a tasty variation you should totally let me know in the comments.

Buffalo Chicken Burgers with Blue Cheese Slaw
Super easy buffalo chicken burgers topped with blue cheese slaw.
Ingredients
2 tablespoons vegetable oil
½ cup panko breadcrumbs
1 pound ground chicken breast
¼ teaspoon kosher salt
⅛ teaspoon black pepper
½ cup ranch dressing
3 oz blue cheese, crumbled (more or less to taste, I really love blue cheese)
1 cup coleslaw mix (store bought)
1 tablespoon butter
⅓ cup buffalo sauce (I used Frank's)
4 sandwich buns
Optional: sliced tomatoes, celery and carrot sticks for serving
Instructions
Add the vegetable oil to a large frying pan and heat over medium high heat.
Spread the breadcrumbs on a plate. Season the ground chicken with salt and pepper--I did this in the tray that it came in, so I didn't have to dirty up another bowl. Form the meat into four equal sized patties and press each patty into the breadcrumbs on both sides. Add to heated pan.
Cook the patties for 7-8 minutes on each side, or until a meat thermometer inserted in the middle reads 165°F. If the breadcrumbs brown too quickly, turn the heat down to medium.
While the chicken is cooking, mix the ranch dressing and the blue cheese in a medium bowl. Reserve a few (3 or 4) tablespoons to use as a spread on your sandwiches. Too the rest, add the coleslaw mix and toss to combine.
In a medium microwave safe bowl, add butter and buffalo sauce. Microwave for 30 seconds, or until butter is melted and mixture is warm. Stir to combine.
When chicken is cooked through, carefully turn each patty in the buffalo sauce one at a time. Serve on a bun topped with the slaw. Add reserved blue cheese dressing and sliced tomatoes as desired.