Do you ever kind of want pie, but you kind of want cake, and you want to eat it for breakfast? No? Just me? Well, that weird craving combination was the catalyst to the creation of this Cherry Upside Down Coffee Cake. And it might just be the next big thing in breakfast.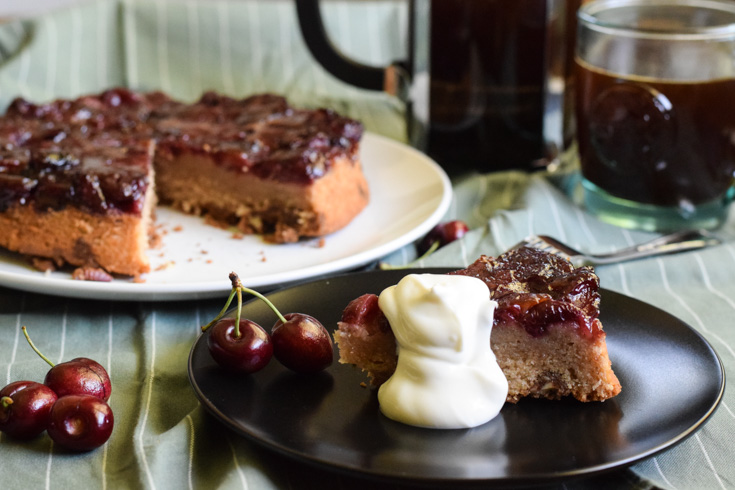 I mean… JUST LOOK AT IT. The top is an ooey gooey cherry layer that's like the darker broodier cousin of pie filling. Then there is the cake layer, that's basically two layers in itself–the top half is dense and almost fudgy in its texture because of the cherry juices, and the bottom is more of a traditional coffee cake, slightly crumbly. THEN THE BOTTOM IS A STREUSEL.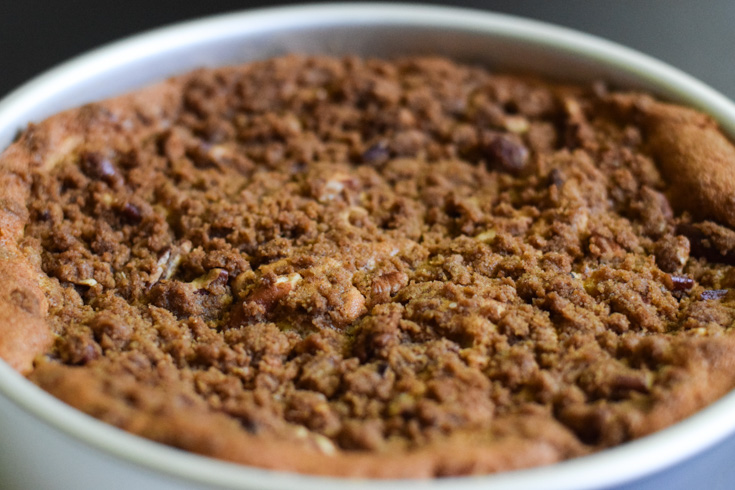 Sorry I yelled that at you, but I don't really think that breakfast pastry can be called breakfast pastry without streusel and why would you expect to find streusel at the bottom of a cake? You wouldn't. Because streusel is a topping. And when you put the cake in the oven, it is the topping, but when you take it out of the pan it's the bottom. It's a topsy turny world this cake lives in.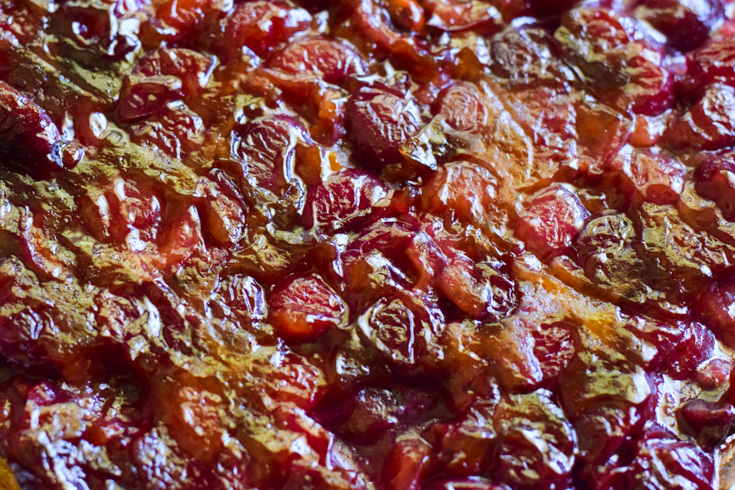 Now, when you read this recipe, you're going to think two things immediately: 1. That's a lot of ingredients, and 2. That's a lot of steps. You're not necessarily wrong, but there's nothing too crazy in there, and the steps are pretty simple.
You'll want to make sure you properly prepare your pan. Make sure you grease the bottom and sides with either butter or nonstick spray. (I use the wrapping for the stick of butter.) Then line the bottom with a piece of parchment and grease the parchment. You really need to do this, even if you have a nonstick cake pan. The cherries will caramelize on the pan and you will not be able to get it out. It will be bad. Don't skip this step.
The pitting the cherries was the longest part of this process. A cherry pitter makes it way faster, but still it takes time, so turn on some tunes or a podcast, and enjoy yourself. You can just mix up the cherries with the butter and brown sugar and cornstarch right in the cake pan. I knew I was already going to use a lot of bowls and utensils for this, so I tried to save on dishes where I could. Then bake. You want to give the cherries a head start on the cake, so they can release some juices and get that pie filling quality.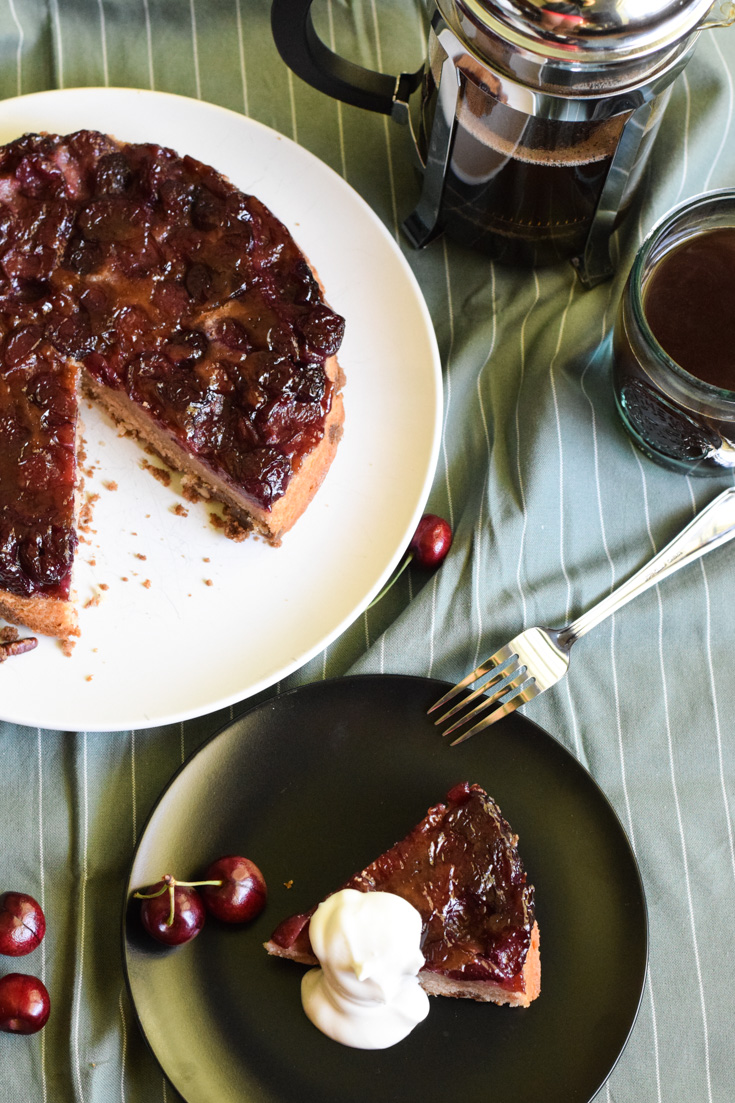 While the cherries do their thing, you can get to work on the cake and streusel. You'll notice that I suggest a stand mixer. Is it absolutely necessary? No. But let me defend it. I have this one in cream. It is an investment (I was gifted mine, but I would have bought one by now if I hadn't been), but if you do a lot of baking, you should stop stewing and get one. I have had mine for probably 15 years, and it is by far my favorite thing in my kitchen. If you don't do a lot of baking, I use mine for mashed potatoes, making dips and spreads and flavored butters, and loads of other things. Bottom line, I love my stand mixer because it frees up my hands to do other things, that I simply could not do with a hand mixer (which I also have).
The cake is a pretty standard cake process. Cream together butter and sugar (mix until fluffy), and egg and vanilla. Mix together your dry ingredients. Mix together your wet ingredients. Then add them to your butter and egg mixture in this order: dry, wet, dry. If you don't start and end with the dry ingredients your cake batter will not come out the right texture. I don't fully understand why, I just know that's the truth because science.

To put the streusel together, you dump everything in a bowl and stir. Easy peasy.
When the cherries, come out of the oven you spread on the cake batter and then the streusel. Then bake again. The only other key to the recipe is to wait about 15 minutes after the cake comes out of the oven to take it out of the pan. If you don't give it time to rest, the cherry juices will spill all over the place, and if you wait too long, it will stick to the pan.
This cake is best within two or three days, and is a seriously delicious breakfast with a dollop of Greek yogurt and a cup of coffee.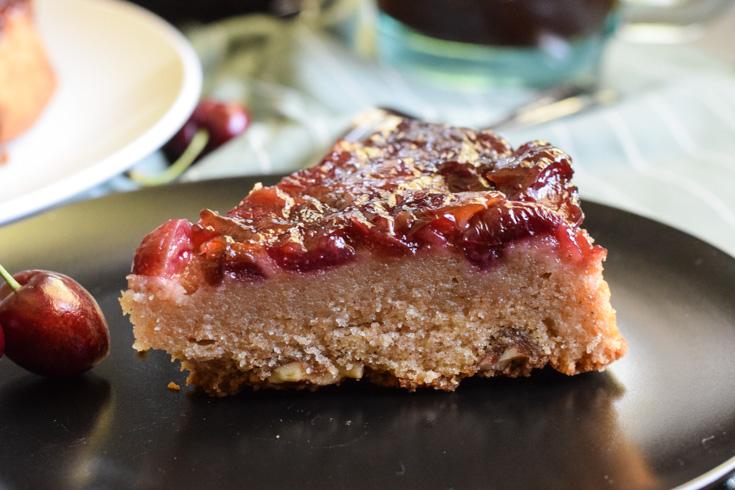 Share your favorite summer fruit baking recipes with me in the comments!

Cherry Upside Down Coffee Cake
This recipe is coffee cake meets cherry pie. It's a gooey cherries layered on a dense cake, with surprise coffee cake streusel on the bottom. Perfect treat for breakfast or brunch!
Ingredients
For the cherries
2½ cups cherries, pitted and halved
3 tablespoons butter melted
2 tablespoons brown sugar
1 tablespoon corn starch
For the cake
1 stick butter, room temperature
½ cup sugar
1 egg
½ teaspoon vanilla extract
1 cup of flour
½ teaspoon cinnamon
1 teaspoon baking powder
¼ teaspoon baking soda
⅛ teaspoon salt
½ cup sour cream
⅓ cup milk
For the streusel
¼ cup flour
¼ cup brown sugar
¼ cup pecans, chopped
½ teaspoon cinnamon
3 tablespoons butter, melted
Instructions
Preheat oven to 350°. Grease a 9 inch round pan and line the bottom with parchment paper.
In the pan, stir together cherries, 3 tablespoons of melted butter, 2 tablespoons of brown sugar, and corn starch. Spread into one even layer. Bake for 20 minutes.
While cherries are baking, make the cake and streusel. In a stand mixer fixed with paddle attachment, cream together room temperature butter and sugar on medium speed for about two minutes until fluffy. Add the egg and vanilla and mix for another 30 seconds.
In a separate bowl, whisk together 1 cup of flour, ½ teaspoon of cinnamon, baking powder, baking soda and salt. In a measuring cup or small bowl, mix together sour cream and milk.
Add half of the flour mixture to the butter and sugar, mix on low until just combined. Add sour cream and milk, mix. Add the rest of the flour mixture and scrape down the bowl. Mixing just until combined. Batter will be very thick.
To make the streusel, whisk together the ¼ cup flour, ¼ cup brown sugar, pecans and cinnamon in a small bowl. Stir in melted butter. The streusel will be coarse and crumbly.
When the cherries are done cooking, remove from oven. Spread cake batter evenly over the cherries, do not mix. Sprinkle streusel mixture over top.
Return to oven for an additional 40-50 minutes or until the top is golden brown and a toothpick inserted in the center comes out clean. Cool about 15 minutes in the pan on a wire rack.
To remove from the pan, run a knife around the edge of the cake, and invert on a wire rack. Put a sheet pan under the rack to catch any extra juices or crumbs. Cool completely, serve.
Note: Some of the links in this post are affiliate links. This means, if you click on the links and buy something, I may make some money. I only link to products that I know and trust.
SaveSave
SaveSave