Why hello there, internet people! Welcome to my very first post!
I won't lie to you, it's a bit daunting, this whole blog thing. I'm used to making up recipes and sharing them with family and friends to eat… but posting them for the whole world to see? That's a different story all together!
That being said, this gingerbread apple crumble needs to be out there.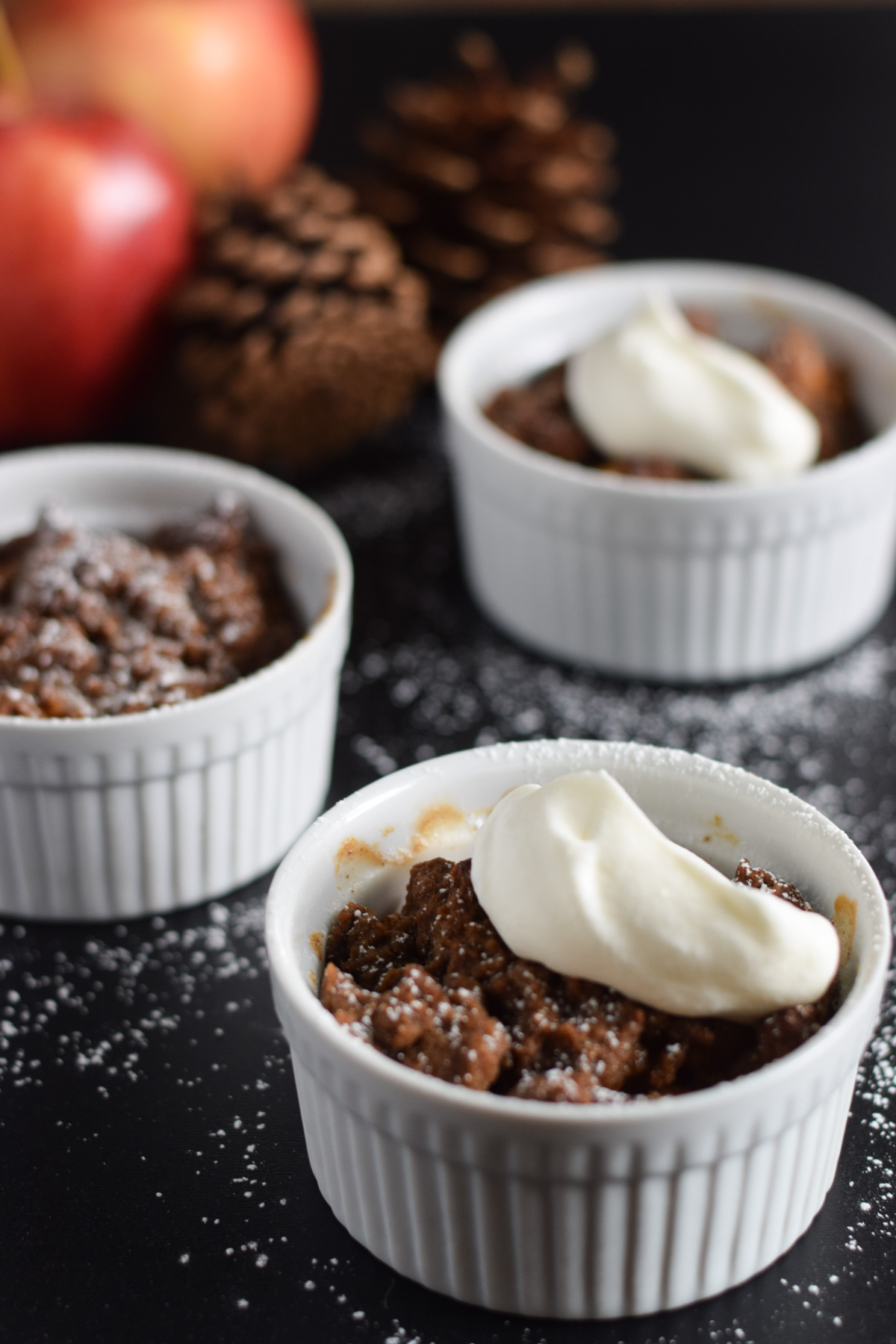 I'm a huge fan of fruit pies, but pie dough can be finicky and time consuming. While I love a buttery, flaky crust, it's mostly just a vessel to hold the gooey fruit filling, also known as the whole point of pie.
That's why crumbles are so amazing. All the ooey gooey deliciousness, with no rolling out dough or blind baking. Not to mention that added texture and flavor of the crunchy crumble!
This recipe is a riff on a classic apple crumble: cinnamon laced apples cooked until soft but not mushy. The crumble topping is where the party starts though. Instead of your typical butter and flour top, I took a left turn into holiday town and added molasses and ginger. The result is what you get when apple pie and gingerbread have a baby. Total deliciousness.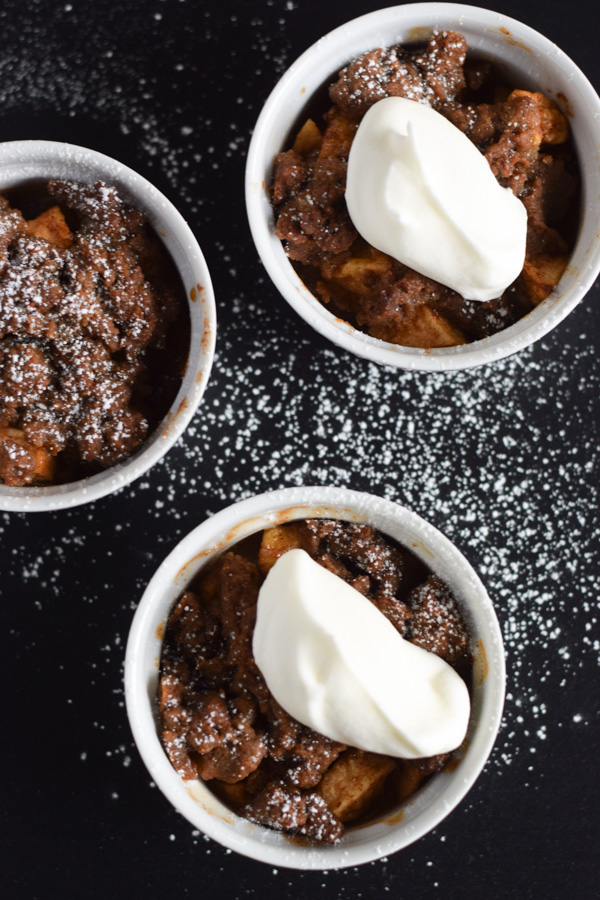 I made my gingerbread apple crumbles in single serving ramekins, but you could just as easily pop it in an 8″ square pan. My personal preference is to serve this warm with a scoop of vanilla ice cream, but it's also really great at room temperature with a sprinkling of powdered sugar and whipped cream, or even cold with a dollop of tangy greek yogurt. That last option is totally appropriate for breakfast. Seriously.
This gingerbread apple crumble recipe is easy enough to make on a weeknight when you just want some dessert, but special enough to take to a family gathering or work party.
Disclaimer: The links in this post are affiliate links, and I earn a commission if you purchase through the links. I have linked to products and companies that I use and trust.
Gingerbread Apple Crumble
Gooey apple pie-like filling with a crunchy gingerbread crumble.
Ingredients
For the filling
5 medium apples, peeled and chopped in half inch chunks
zest of 1 orange
2 tablespoons orange juice
½ teaspoon ground ginger
½ teaspoon ground cinnamon
⅓ cup sugar
pinch of salt
1 tablespoon cornstarch
For the crumble
½ cup butter (1 stick), melted
2 tablespoon molasses
1 teaspoon ground ginger
½ teaspoon ground cinnamon
½ teaspoon baking powder
pinch of salt
⅓ cup dark brown sugar
1 cup flour
Instructions
Preheat oven to 375°F
In a large bowl, stir together all ingredients for the filling.
Pour filling in 8X8-inch pan or divide evenly among 8 individual ramekins.
Wipe out bowl and stir together the melted butter, molasses, ginger, cinnamon, baking powder, and salt. Add brown sugar and flour, and stir until combined. Mixture will be very thick.
Spoon crumble mixture evenly on top of apple filling, allowing it to break into coarse crumbles as you go.
Bake for 20-25 minutes, or until fruit is juicy and bubbling and the topping is firm.
Allow to cool for 15 minutes before serving.
Notes
Notes:
This is incredibly comforting served warm with vanilla ice cream, but it's just as good at room temperature by itself or with a dollop of whipped cream.

Store covered in the refrigerator for up to a week. (If you're like me, you'll eat it cold the next morning with greek yogurt.)