I have a problem: I am incapable of buying the right number of bananas. It does not matter how few I buy, we never eat them all before they get too soft. It doesn't really help that bananas are only the perfect ripeness for eating for all of about 10 minutes either.
Because of this banana situation, I end up freezing all of the slightly overripe bananas. At any given time I have 4-6 bananas (sometimes 10-12) in my freezer. Sure, sure, they're great for smoothies, but I'm too lazy to drag out my blender and have to clean it up just so I can make a smoothie. My blender is reserved almost exclusively for salsa making and frozen adult beverages.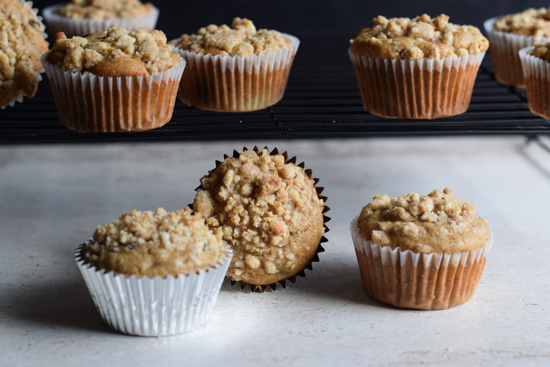 More often than not my frozen bananas are destined for baked goods. Breads, cakes, muffins. Mmmm, muffins. Little cakelettes that are socially acceptable to eat for breakfast. An excuse to sneak chocolate chips into breakfast food? Yes, please.
Muffins are also super simple to make. I really think this is because whoever came up with the muffin in the first place was too sleepy to make something complicated for breakfast. A couple of bowls, a whisk, and a muffin pan, and you're all set. No mixers, or fussy methods.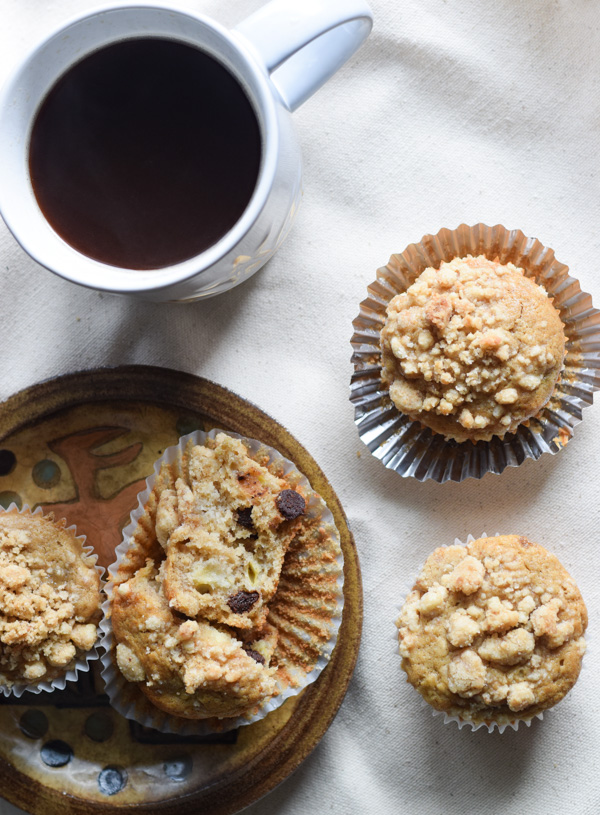 These muffins are especially delicious because they are Secret Ingredient Banana Chocolate Chip Muffins. The secret ingredient comes in the form of garam masala, a spice found a lot in Indian food that combines flavors you would normally put in sweet foods–cinnamon, cloves, cardamom–with more savory tastes–cumin, black pepper, bay leaf. I recently picked up a jar at my grocery store and have decided that it is the best thing ever on butternut squash, sweet potatoes and chicken. It packs a lot of flavor in one bottle. Why put it in muffins? Why not, really… I love it in this recipe because it's interesting. There isn't so much of it that you're able to pick out the black pepper and cumin notes, but it's definitely not your everyday muffin flavor. Don't want to pick up a bottle? You could just as easily use cinnamon or leave it out all together, and your muffins would still be delicious, just not secret ingredient muffins, therefore not as cool. Kidding.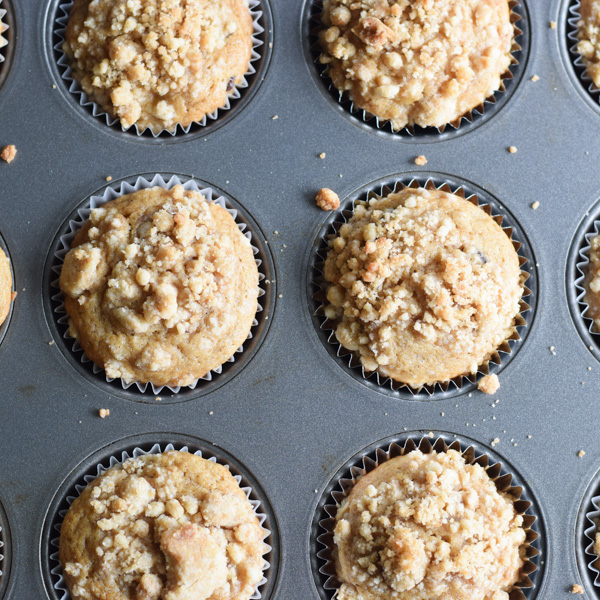 You'll notice that for this recipe I used two types of flour. For the muffin itself, cake flour and for the the crumb, all purpose. Before you get frustrated by two types of flour, let me 'splain. For a lot of baked items that are caky I use cake flour because it's lower in protein than traditional all purpose flour. Protein, specifically gluten, is what makes pizza dough stretchy and bread chewy. Stretchy and chewy are not good words to describe muffins. So to give myself a bit of added insurance that my muffins will be tender, I use cake flour. HOWEVER, you could just as easily use all purpose flour and your muffins will be great. Just make sure with the all purpose flour that you don't over mix the batter. A few small lumps of dry ingredients is totally ok when it comes to muffins.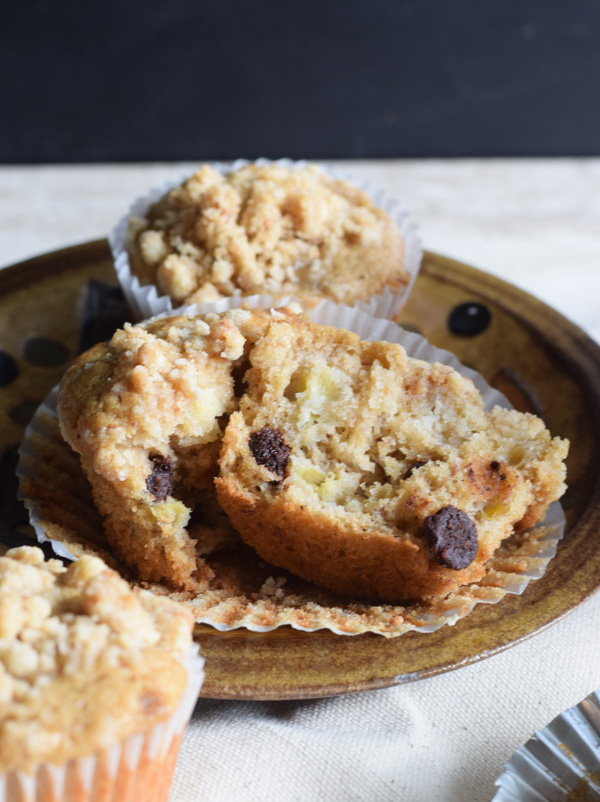 Ok, now I can get off my Alton Brown food science soap box.
Make these muffins. Take them to work with you Monday morning and be a work hero.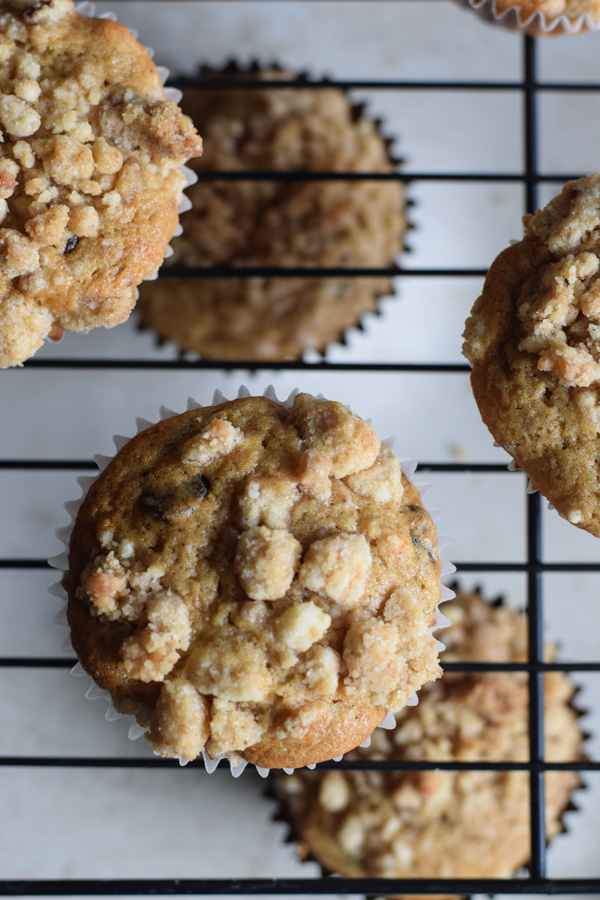 Secret Ingredient Banana Chocolate Chip Muffins
Banana chocolate chip muffins spiced with garam masala
Ingredients
2 cups cake flour
1¼ teaspoon baking powder
½ teaspoon baking soda
1 teaspoon garam masala
¼ teaspoon salt
3 bananas, mashed but with some small chunks
½ cup butter (1 stick), melted
¾ cup brown sugar, packed
2 eggs
1 teaspoon vanilla extract
½ cup chocolate chips
For the crumble topping:
1 cup all purpose flour
¼ cup brown sugar, packed
½ cup butter (1 stick), cold, cut into small cubes
Instructions
Preheat oven to 350°F. Line a muffin pan with paper liners.
In a large bowl, whisk cake flour, baking powder, baking soda, garam masala, and salt.
In a medium bowl, whisk together bananas, melted butter, brown sugar, eggs, and vanilla. Add wet mixture to dry mixture and whisk just a few times. A few small lumps of the dry ingredients are fine. Add chocolate chips and stir just a couple times to distribute.
Spoon the muffin batter into the muffin tins, filling them about three quarters full.
In a small bowl, make the crumble topping by stirring together the flour and brown sugar with a fork. Add the butter cubes and use your fingers to squeeze the butter into smaller pieces. When the mixture looks crumbly with uneven pebble-like pieces, it's perfect.
Top each muffin with a few teaspoons of the crumble topping.
Bake for 20 to 25 minutes or until a toothpick inserted into the middle comes out clean (except for melted chocolate). Cool on a wire rack for about 10 minutes. Remove muffins from pan and cool completely.
Disclaimer: Links in the above post are affiliate links. This means that if you click on the link and buy something, I make some money. I only link to stuff I have used and trust.