Behold! The most perfect holiday dessert ever.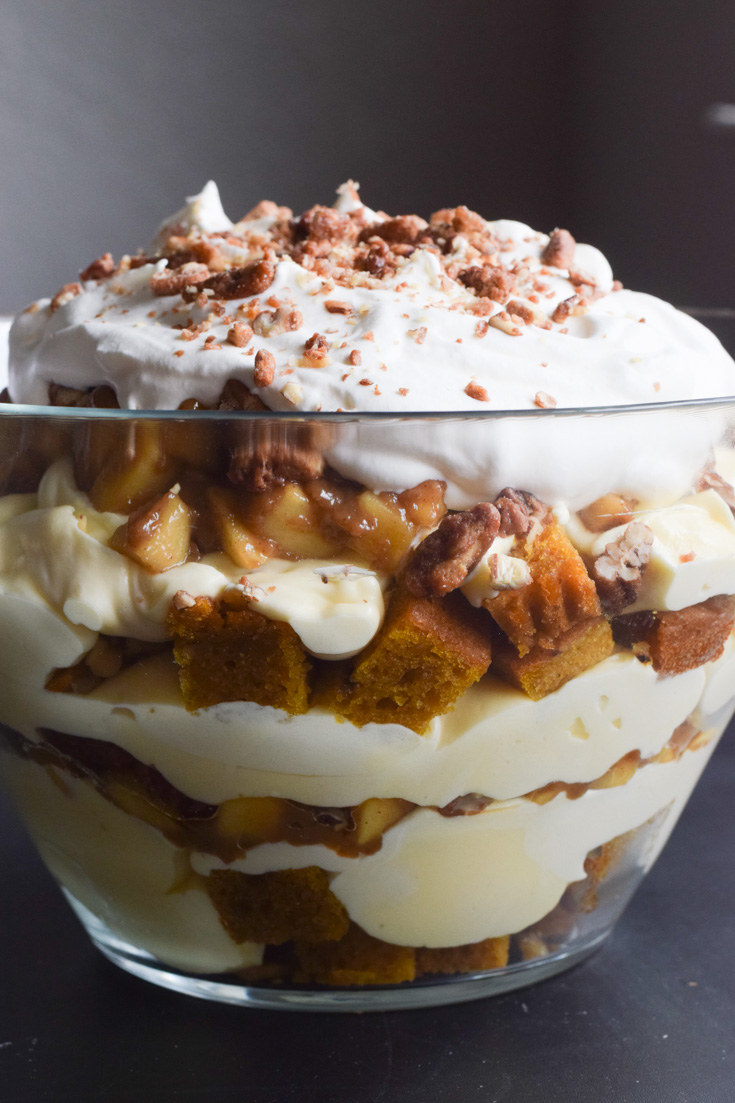 In all honesty, I have never made a dessert anything that has garnered as many compliments on the first bite as this Thanksgiving Trifle.
Before I explain to you what exactly this beautiful layered deliciousness tastes like, let me set the scene. The thought of making pies for Thanksgiving stresses me out. Making a pie crust from scratch is too much guess work, since you have to worry about adding too much or too little liquid, hoping your ingredients stay cold enough, wait for it to chill, and then rolling out a cold pie dough. UGH. Yes you could just buy a crust from store, no shame in that game. BUT THEN there's the filling, is your pumpkin pie going to set up properly without the crust getting too dark? Is your apple pie recipe going to be juicy but not too runny? No, thank you.
Luckily my grandmother happens to be a very good pie baker, so I don't actually have to do it, but what about those of you who are in charge of dessert for your Thanksgiving/Friendsgiving/office potluck? How do you get to have all the best flavors of fall without slaving over multiple pies? Enter the Thanksgiving Trifle. It's like a dessert version of the turducken, but delicious.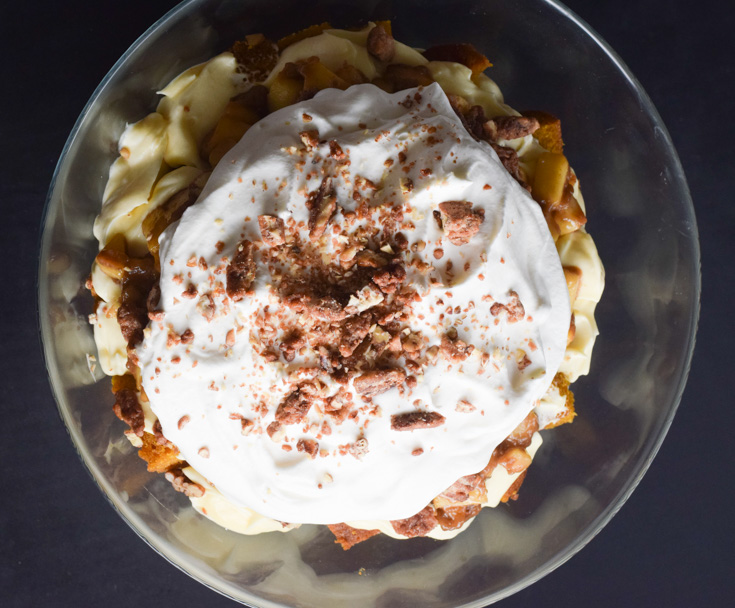 Specifically, this trifle is pumpkin loaf (expertly bought from a store) layered with a vanilla pudding, sautéed apples, and candied pecans and whipped cream. It's super simple to make and darn near foolproof.
You start by sautéing chunks of apples–pick a good cooking apple like Granny Smith, Braeburn, Honey Crisp or Fuji– in brown sugar, butter, flour, cinnamon, and a generous pinch of salt. Let the apples cook until they've released some juices but are still kind of crunchy. Then, using a hand mixer, whip some cream. Then assemble the pudding mixture, with instant vanilla pudding, milk, cream cheese, and sweetened condensed milk and fold some of the whipped cream in to lighten it up. All that's left is assembly–layering it all up in a big clear trifle bowl or you know… a salad bowl if you're like me. I used store bought pumpkin bread, muffins or cake would work fine too. If you just love your recipe for pumpkin bread, go nuts, but I say take the help where you can get it. I also bought the glazed pecans I used, but you could just as well use plain pecans, or leave them out if you're not nutty.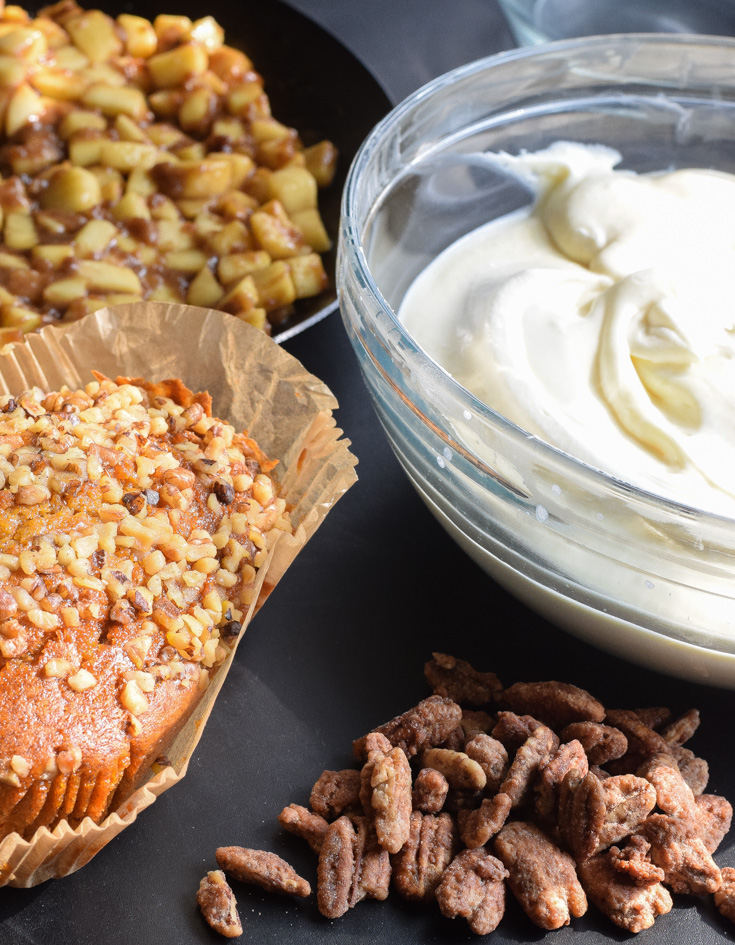 I think this trifle gets better with a few hours in the fridge, so make it in the morning and let it hang out until time for dessert. To serve, just dig a giant spoon in as far as it will go and plop it into a bowl, it's not as pretty once served, but it probably won't be around long enough for anyone to notice!

Thanksgiving Trifle
A combination of all the best fall dessert flavors-- vanilla pudding layered with sautéed apples, candied pecans, and pumpkin bread.
Ingredients
2 pounds apples, peeled, cored and chopped into half inch chunks
½ teaspoon cinnamon
1 tablespoon flour
pinch of salt
3 tablespoons butter
3 tablespoons brown sugar
2 cups heavy cream
2 tablespoons sugar
1- 5oz. package instant vanilla pudding mix
2 cups milk
8 oz. cream cheese, softened
1- 14oz can sweetened condensed milk
1 loaf of pumpkin bread (store bought or homemade), cut into 1 inch cubes
1½ cups glazed or candied pecans, coarsely chopped
Instructions
In a medium bowl, combine apples, cinnamon, flour, and salt. In a medium sauté pan over medium heat, melt butter with the brown sugar. Cook, stirring occasionally for about a minute. Add apples and stir to combine. Cook for another 3 to 5 minutes until the apples have just softened, they should still have a bit of crunch. Remove from heat and allow to cool to room temperature.
In a large bowl, using a hand mixer beat the heavy cream, when it becomes frothy, slowly add the sugar while continuing to mix. Beat the cream to soft peaks.
Add the pudding mix to the milk, and whisk to combine. (Do this in the measuring cup.)
In another large bowl, beat the cream cheese with the sweetened condensed milk until smooth. (There is no need to clean your mixer whisks.) Add the pudding mixture, and again beat until smooth. Using a rubber spatula, gently fold in half of the whipped cream.
In a trifle bowl, or other tall clear serving dish, add half of the cubed pumpkin bread. Top with one third of the pudding mixture, then half of the apples and half of the pecans. Repeat layers, reserving a couple tablespoons of the pecans to garnish. Top the whole dish with the remaining whipped cream and pecans.
Serve immediately or cover with plastic wrap and refrigerate until ready to serve. Best within 2 days.
Note: This post contains affiliate links, which means if you click on a link and buy something, I may make some money. I only link to items I use and trust.
SaveSave