When this post first started rolling around in my brain, I was just going to post a recipe for Spinach Pistachio Pesto. Then I got to thinking about how I never really make the same pesto twice. Then I started thinking about how I rarely use all the pesto I make for one recipe, I almost always repurpose it. Then I started thinking about how I need to catch up on Kimmy Schmidt, but that's not really the point.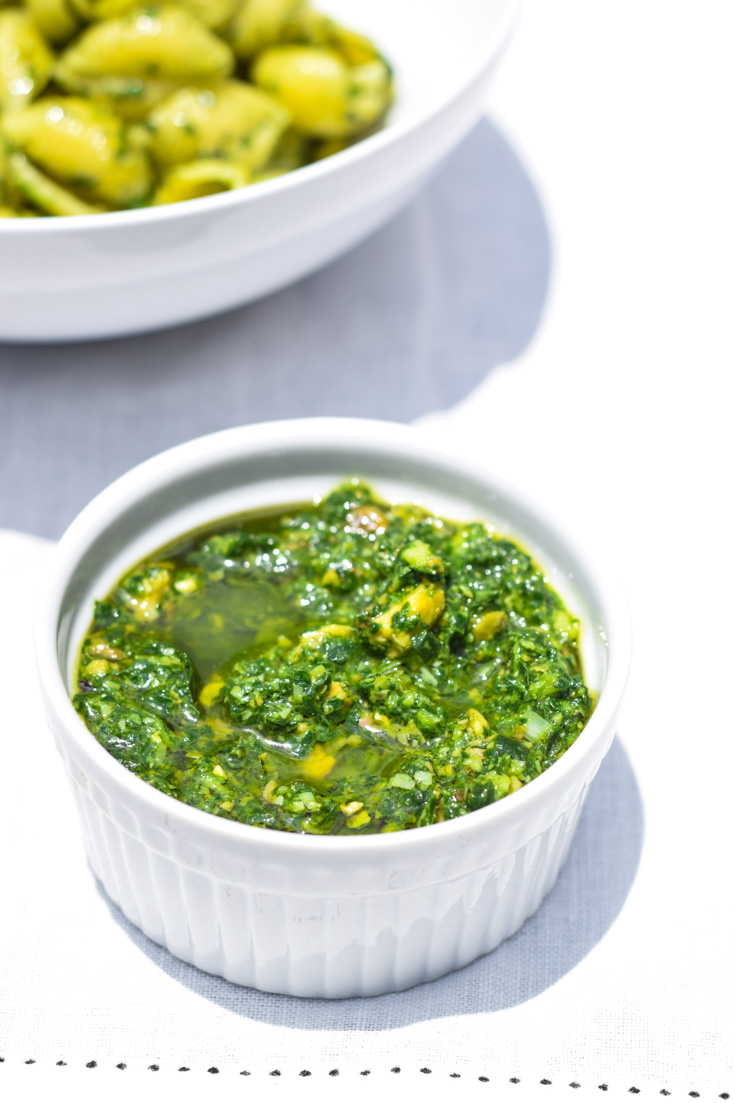 The point is that this post is going to serve four really awesome purposes: I'm going to break down the formula for making pesto, I'm going to give you a ton of ingredient ideas to make any flavor you want, I'm going to give you 10 delicious ways to use it, then I'm going to give you that Spinach Pistachio Pesto recipe I talked about before. This is going to be a long one, but by the end of it, you'll have about a million ways to jazz up dinner time. Or lunch. And sometimes even breakfast! But I'm getting ahead of myself here.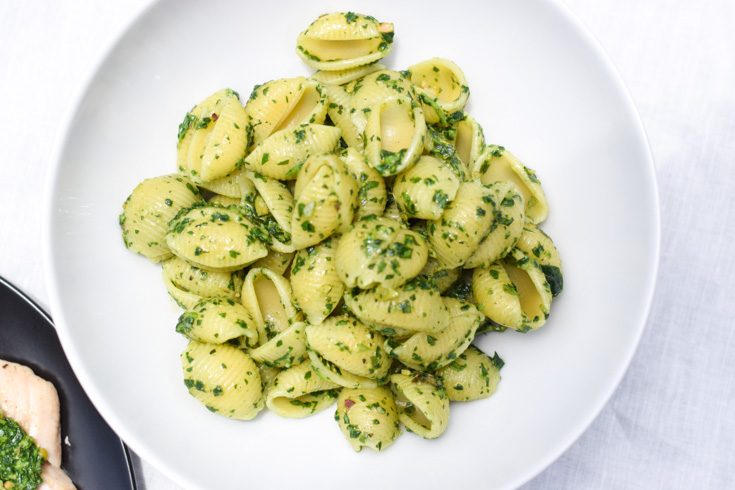 So first thing's first: what is pesto? Pesto is an Italian sauce that is most traditionally made by blending basil, garlic, parmesan cheese (more specifically, Parmigiano-Reggiano), pine nuts, salt and olive oil. It's traditional use is as a raw pasta sauce. And if you want to stop right here and go on your merry way to only make traditional pesto and use it only as a pasta sauce, here's your chance. Now, if you want to have your life flip turned upside down, I'd like to take a minute to sit right there and tell you how I became the prince… Just kidding. Here's the part where I'm going to explain to you a ton of ways that you can do this differently.
How I think of pesto in my kitchen is by breaking down the ingredients into negotiables and non-negotiables. For me the negotiables are the herbs/greens, the nuts, and optional flavoring components. The non-negotiables are the parmesan cheese, garlic, olive oil, salt. Obviously, if you are not a cheese eater, you can omit that, same with the nuts, but in my home, it isn't pesto without cheese and nuts. Who am I to judge though?
You have a few options on what tool you use for the making of your pesto, of course I have some opinions though. Italian grandmothers for centuries have been using a mortar and pestle. Low tech, small footprint in your kitchen, and makes a really silky texture, but it takes a lot more time and some serious arm and shoulder muscles. Not my tool of choice. You could use a blender or an immersion blender, they are quicker, but they tend to beat up the herbs too much and sometimes have problems with the nuts (insert inappropriate giggle here). I always use my food processor. It's fast, it doesn't bruise the greens to much, and I only have to use my finger muscles.
Ok, now for the fun part. What are you going to put in your pesto?
First, the greens. You'll need about 2 and a half packed cups of green stuff. I use one or two of the following:
Basil
Parsley (stems removed)
Baby spinach
Watercress
Arugula
Mint (I only ever use about a half a cup and combine it with one of the above)
Next, about 1/3 cup of nuts. Not all nuts are created equal, my suggestions are:
Pine Nuts
Walnuts
Pistachios
Almonds
You'll blend your greens and nuts with 2 or 3 cloves of garlic, about 3/4 teaspoon of kosher salt (plus more to taste), and stream in about a 1/2 cup of extra virgin olive oil. When that reaches a nice texture, add about 1/2 cup of grated parmesan cheese (please, for the love of all things good in the world, do NOT use the green can) and pulse a couple more times to combine.
Now, you have some options when it comes to flavoring components. You could easily just use a combination of the above ingredients, and call it a day, or you could get weird (in a good way) and have some fun with:
Peas, replace some of the greens with peas, especially delicious with mint
Lemon, the zest and juice from a lemon adds a nice bright acidity and will keep your pesto green for longer (I use lemon zest about 99.9% of the time)
Sun dried tomatoes, add a whole jar, using the oil to replace some of the extra virgin olive oil
Sautéed mushrooms, especially delicious with something steak-y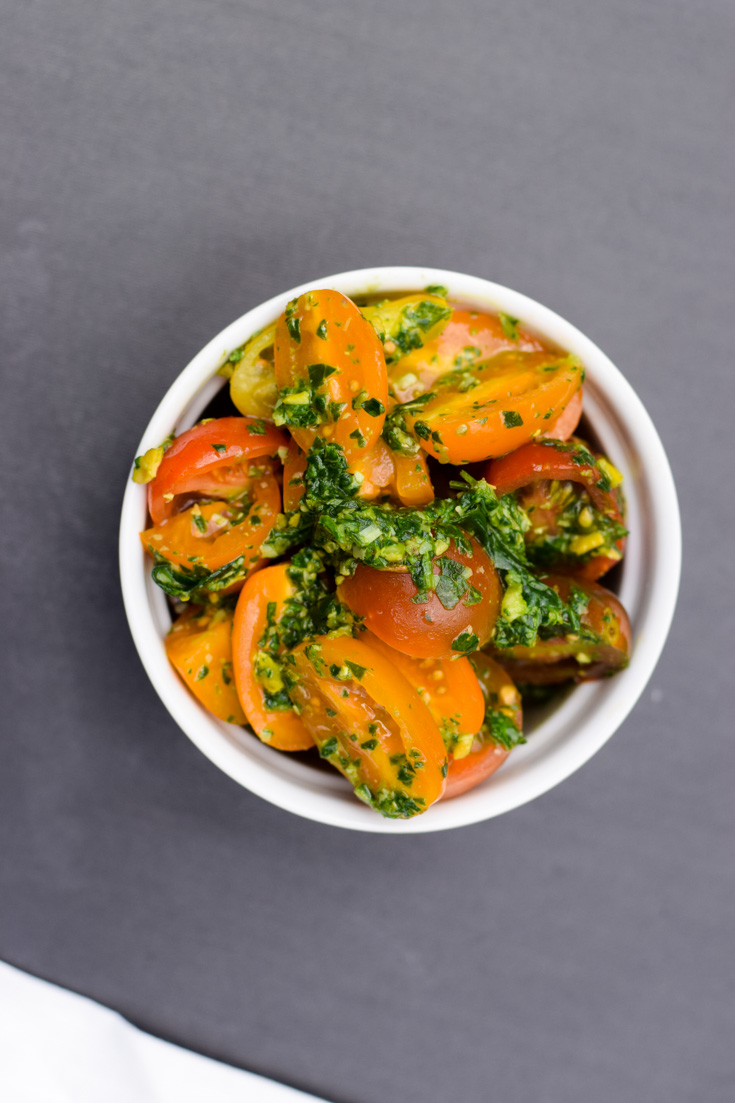 So now you know how to make about 300 types of pesto (yeah, that's right, from the above list of ingredients you can make like 300 different things) let's give you 10 fun ways to use it!
Pasta Sauce: As we talked about above, toss a few tablespoons of your fresh pesto with the cooked pasta of your choice. You can also toss in some fresh veggies like tomatoes, olives, peas, mushrooms, or some chicken for some protein. The options are endless.
Sandwich Spread: Spread pesto directly on bread, or mix with mayo for a creamy option. Tasty for grilled cheese, chicken sandwiches, deli turkey, salami, or steak sammies. You could also use this for veggie sandwiches, but to me those are just stacked salads. Which brings me to…
Salad dressing: Use a bit more oil to thin it out, and toss with your favorite salad. This is especially tasty if you add a lot of lemon to your pesto. You could also add it to this ranch recipe for a creamy dressing.
Marinade: Slather your pesto on some chicken, fish, or beef and throw it on the grill. This would also be great for grilled mushrooms or other vegetables! Don't feel like grilling? You could roast your pesto-y delights as well!
Dipping sauce: Maybe you already grilled some chicken with just some salt and pepper? Dunk it in your pesto to add more flavor! Same goes for raw veggies. Have you ever been to an Italian restaurant where they bring you bread and some oil to dunk it in? Why not pesto? Mix your pesto with some cream cheese and mayo for an easy creamy veggie dip.
Flavor booster: Stash your leftover pesto in ice cube trays, and freeze it! The next time you're making marinara, or soup, or a pan sauce that could use an extra somethin' somethin' pop a frozen pesto cube in and let it cook into your creation!
Pizza Sauce: Instead of red sauce or alfredo on your pizza, drizzle pesto on as your sauce. It makes a great base for chicken pizzas! Or you could make your pizza as normal with red sauce and then drizzle the pesto on when it comes out of the oven!
Avocado Toast: Millennials have taken a lot of flack for their obsession with avocado toast, but if loving avocado toast is wrong, I don't want to be right. Next time you whip up the snack, flavor it up with some pesto!
Cheese Plate: For your next get together with friends, if you're planning on putting together a cheese plate, throw a little dish of pesto on there! It's a great accompaniment to goat cheese, a hunk of parmesan, even brie.
Eggs: Add a spoonful of pesto in the last minute while your scrambled eggs are cooking for some Dr. Seuss green eggs. Drizzle some on a fried egg so it can mix with the yolk when you break into it. Throw some into some hollandaise sauce to fancy up your eggs benny. When pesto's on an egg, you can have pesto any time!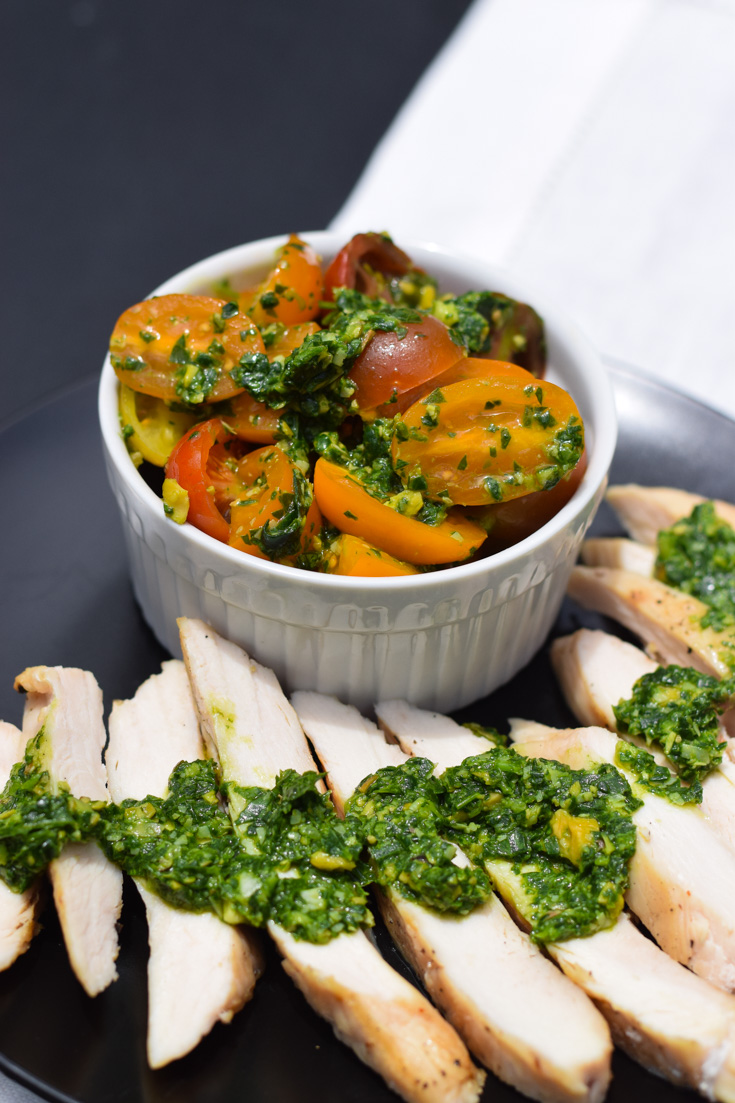 Whew! There you have it: 300 ways to make a rocking pesto and then 10 ways to use it (really there's like 30 ways listed in there because I'm an over achiever). Below is my recipe for Spinach Pistachio Pesto for your eating pleasure. Let me know about your awesome pesto creations and your favorite ways to use them!!

Spinach Pistachio Pesto
Easy pesto recipe with spinach, parsley, and pistachios for an easy pasta sauce or marinade.
Ingredients
1½ cups baby spinach
1 bunch Italian flat leaf parsley, stems removed
3 cloves of garlic
⅓ cup pistachios
zest of 1 lemon, plus 1 tablespoon of juice
¾ teaspoon kosher salt
pinch of black pepper
½ cup extra virgin olive oil
½ cup grated parmesan cheese
Instructions
Add spinach, parsley, garlic, pistachios, lemon zest and juice, salt and pepper to food processor. Start the processor and slowly drizzle in olive oil. Stop the processor and add cheese, pulse a few times to mix. Use immediately, or store covered in the refrigerator for up to 2 days or freeze for a few months.
Note: Some of the links in this post are affiliate links. This means if you click on the link and buy a product I may make some money. I only link to items that I use and trust.
SaveSave