Happy Pi(e) Day! In honor of this magical mathematical day, I bring you Grasshopper Pie! Now, if you don't know what grasshopper pie is, don't get grossed out by the name. It's the pie version of the famous cocktail- a sweet, green, minty beverage. To me, it's better as a pie. I don't love my alcohol super sweet, but I do love my desserts that way!
I really wanted to post a traditional Irish dish this week, in honor of Saint Patrick's Day. Turns out, most of the dishes we Americans know as "Irish" are figments of our imagination. So I scrapped the traditional part and brought you a two-for-one holiday treat, the pie version of the Shamrock Shake! So really you could use this recipe for Pi Day or for Saint Patty's Day! You're welcome.
Also, confession: I was too lazy today to make a pie crust, so fruit pies were out. AND traditional grasshopper pie has you beat egg whites and cook egg yolks and gelatin and fold all that together with whipped cream. WHO HAS TIME FOR THAT MESS? Not me.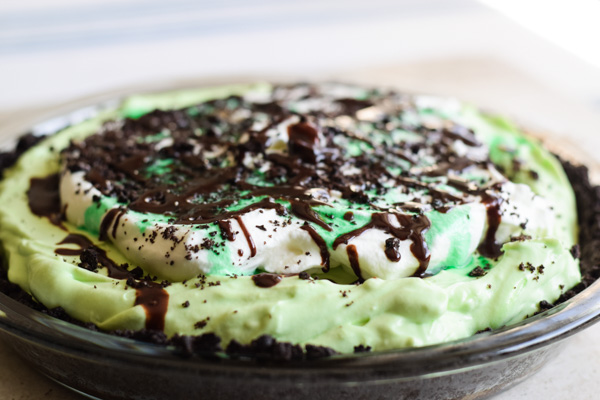 So I took a different route and cheated the system a bit. Instead of eggs and such, I used instant pudding as the base for this pie. I added some cream cheese for some tang and to cut the sweetness, and then folded in some peppermint extract and whipped cream for flavor and fluffiness. Poured all that in a crust made of your favorite chocolate sandwich cookie and popped it in the freezer. When it's all said and done, you get a pie that tastes like my favorite Girl Scout Cookie!
Lazy girl ingenuity for the very tasty win. Winner, winner, pie for dinner. (Not really, but…)
Grasshopper Pie
Sweet minty filling in a chocolate cookie crust.
Ingredients
2½ cups finely ground chocolate sandwich cookies (about 25 cookies)
4 tablespoons butter, melted
1 cup milk
1 3.4 ounce package French Vanilla instant pudding mix
4 ounces cream cheese, softened
½ teaspoon peppermint extract
green food coloring
12 ounce container of whipped cream or whipped topping
Optional garnishes: creme de menthe, chocolate syrup, chocolate mint candies
Instructions
Preheat oven to 375°F.
In a small bowl, combine cookie crumbs and butter. Press into a 9 inch pie pan. Bake for 15 minutes. Cool to room temperature.
In the cup you measure your milk in, stir the pudding mix into the milk.
In a large bowl, using a hand mixer, beat the cream cheese until smooth and creamy. Add pudding mixture and peppermint extract, and beat until smooth. Add a few drops of food coloring to reach your desired coloring.
Using a rubber spatula, fold about two-thirds of the whipped cream into the pudding mixture. Set aside the rest for the top of your pie.
Pour the pudding mixture into the cooled pie crust. Top with remaining whipped cream and garnish as desired. Freeze for at least 2 hours. Serve cold.
Note: If you would rather have a softer more pudding consistency, just pop the pie into the refrigerator instead of the freezer. It's more difficult to cut and serve, but softer and equally delicious.