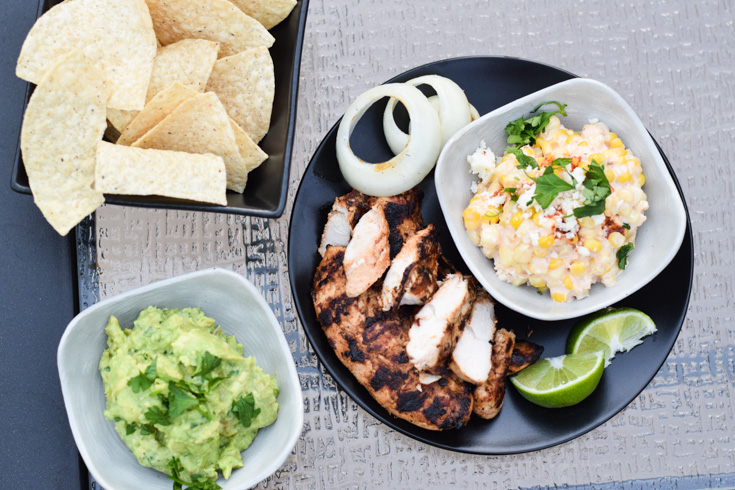 The next couple of days, I am sharing three recipes I made one night for a dinner that was ready in less than 30 minutes (not counting marinading time and time to get the grill going). They are all recipes that you could easily use to celebrate Cinco de Mayo tomorrow and are pretty easy to scale up or down depending on how many people you're serving. The first recipe in this miniseries, and the one I make the most often, is my go-to guacamole recipe.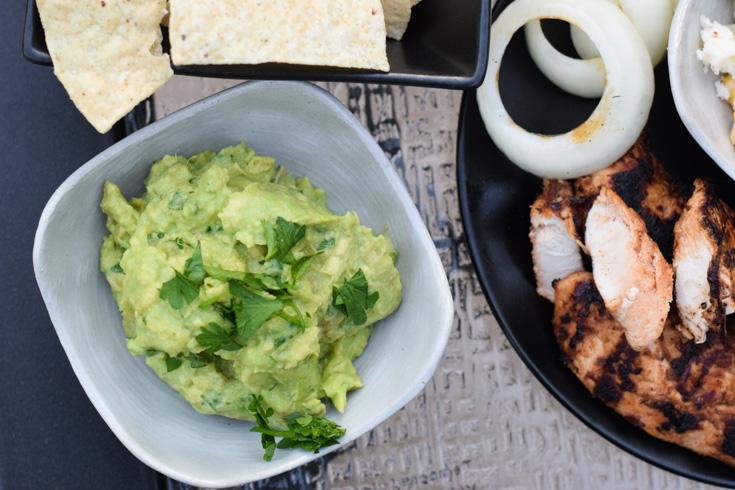 I've mentioned before that I have a lot of strong opinions about food, and guacamole is definitely one of those foods. It's a food that's always good–even bad guacamole is good. You know what I mean? It's an easy food to make, and to me, it's an easy food to make wrong. Turns out though, if you do a quick Google search of guacamole, there really isn't a "right" way to do it. I really think that because Mexican food varies so much from region to region and from family to family, it's one of those foods that depends heavily on your experience.
A ton of guac recipes feature tomatoes, onions and peppers–all ingredients that, for me, are optional and mostly unnecessary. Pico de gallo or salsa is spicy and guacamole is cool. Guac should taste like avocados with salt and hints of lime and garlic and cilantro. Spicy guac or guac with tomatoes is redundant. Maybe that's just me though.
To make good guacamole you have to have ripe avocados. Ripe avocados give a little when you gently squeeze them. If they are too ripe, they will give a lot. If your grocery store normally has really hard avocados, go a few days ahead of when you want to make guacamole and leave them out on the counter. If they still are a little too tough when you go to make the guac, use a cocktail muddler to mash it.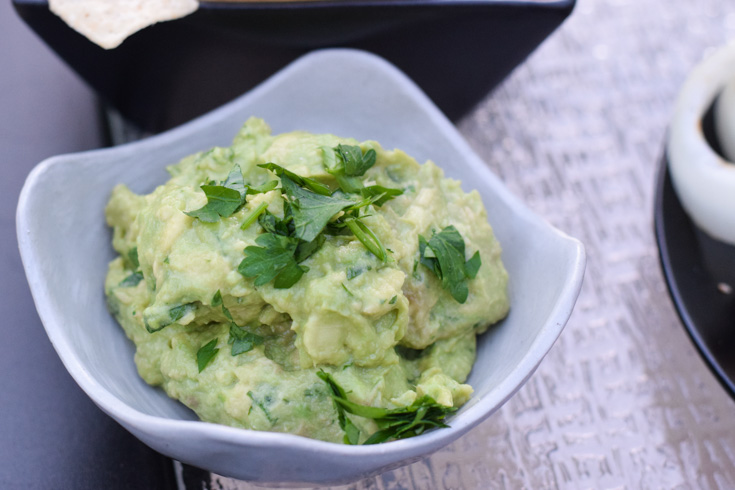 When you read the recipe, you'll notice a few things. It calls for 2 limes. I rarely use 2 limes, but sometimes I just want more lime. If you're lime is super juicy, start with half of it and work your way up. If you're one of those people that hates cilantro, feel free to leave it out. You'll also notice that the recipe calls for kind of a lot of salt, and that it can also vary. Let me explain. First, unless I'm baking I always use Kosher salt. Not all Kosher salts are created equally. I have been using Diamond brand recently, and I generally have to use a lot more of it as opposed to others that I have used to get the same results. Second, it depends on the application of your guac and your taste buds. If you're eating it with chips, taste your guac with the chips. If I am using it as a chip dip, I usually add less salt to account for the chips than I would if I were using it for a condiment on tacos. With salt I almost always start with a half a teaspoon and then add more later. The first few times you make the guac, taste it, and when it tastes good to you, add a pinch more salt. Seriously. Last, you'll notice the addition of pickled jalapeño juice. This is a totally optional addition I got from my mom. I don't always have pickled jalapeños on hand, so it doesn't always go in there, but if I have them, the juice is a welcome addition. It's not enough to make your dip taste pickled or spicy, but it adds a little depth.
Let me know your special guacamole recipes in the comment! Dip responsibly.

Go-To Guacamole
Easy recipe for guacamole that can be made in minutes!
Ingredients
2 limes (you will probably only need one)
4 medium avocados
1 garlic clove, minced or grated
2 tablespoons cilantro, finely chopped
½ to 1½ teaspoons of salt
1 teaspoon pickled jalapeno juice (optional)
Instructions
Juice one lime into a large bowl.
Cut the avocados in half, remove pit, and spoon the flesh into the bowl. If you haven't gathered and chopped the garlic and cilantro, coat the avocado halves in the lime juice so they don't brown.
Add the garlic and cilantro, ½ teaspoon of salt, and jalapeño juice if using.
Using a fork or a cocktail muddler if your avocados aren't ripe enough, mash the avocados and stir the ingredients together. A few small chunks of avocado are ok.
At this point, taste the guacamole. I highly suggest if you are serving it with chips that you use a chip to taste it, if you are using it as a condiment on tacos, use a fork. For me, I almost always add more salt a pinch at a time, and if the lime wasn't very juicy, I'll add more juice.
Ideally you should serve immediately. If you need to store the guacamole for later, use an airtight container AND press plastic wrap directly on to the surface of the guacamole.
Disclaimer: Some of the above links are affiliate links. This means if you click and buy something I could make some money. I only link to products I have used and trust.