Call a couple of friends, your significant other, your parents. Call somebody, anybody. Invite them over for dinner, because I got you. This Spice Rubbed Pork with Butternut Squash and Apples recipe is all you're going to need for an excellent dinner in. Ok, maybe a bottle of wine too (if your friends are anything like mine), but you could just ask your guests to bring that!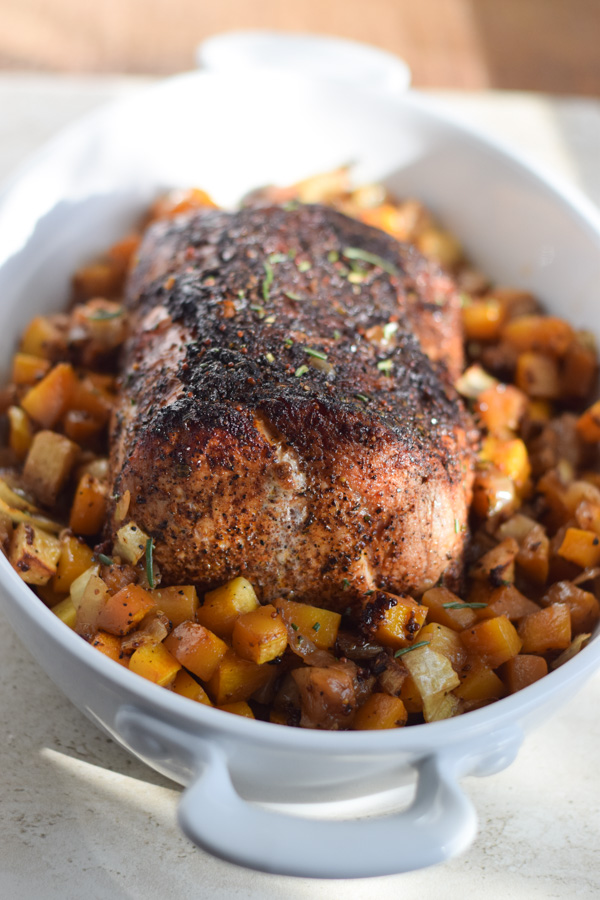 Really though, this dish is the best excuse to have friends over for dinner. If you get your pork loin on sale at the grocery store like I did, it's pretty inexpensive. There's about twenty minutes of active cooking and prep time, and then you just hang out until it's time to eat. Everything is cooked in one pan, so clean up is a breeze. It's kind of ridiculous how easy this is.
This spice rubbed pork is a product of how I plan meals for the week. The first thing I do is check what proteins are on sale at my grocery stores. Usually our weeks are filled with a couple of days of chicken, maybe some ground beef or roast, and only sometimes, pork. Since I only cook for the two of us most nights, we get quite a few meals out of a big pork loin like the one I bought (a six pounder!). I'll bring it home and divide it a up a couple of times. Some goes in the freezer for another time, and leftovers can sometimes be slipped into fried rice or quesadillas later in the week.  This recipe will be at least dinner and lunch the next day for the two of us (plus a couple snacks).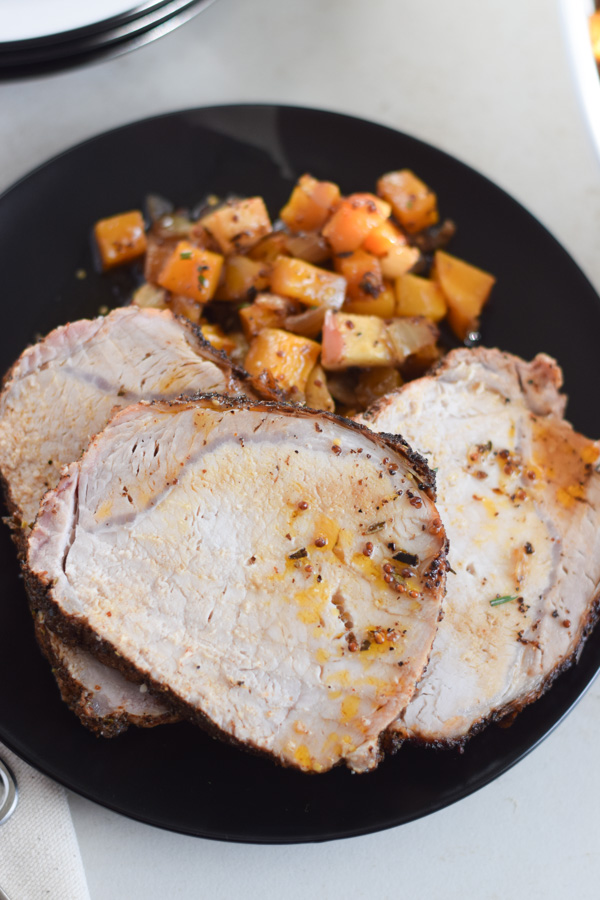 I added the butternut squash with apples and onions as kind of an afterthought, but I am soooooo glad I did. I needed a side dish to go with the pork, but the thought of cooking a vegetable or starch on its own (and cleaning up another pan) didn't interest me. Apples with pork is a pretty classic combination, but not very hardy. Butternut squash is in season right now, super good for you, and takes to a ton of different flavors. I added onions and mustard into the mix to bring a savory aspect to an otherwise pretty sweet side.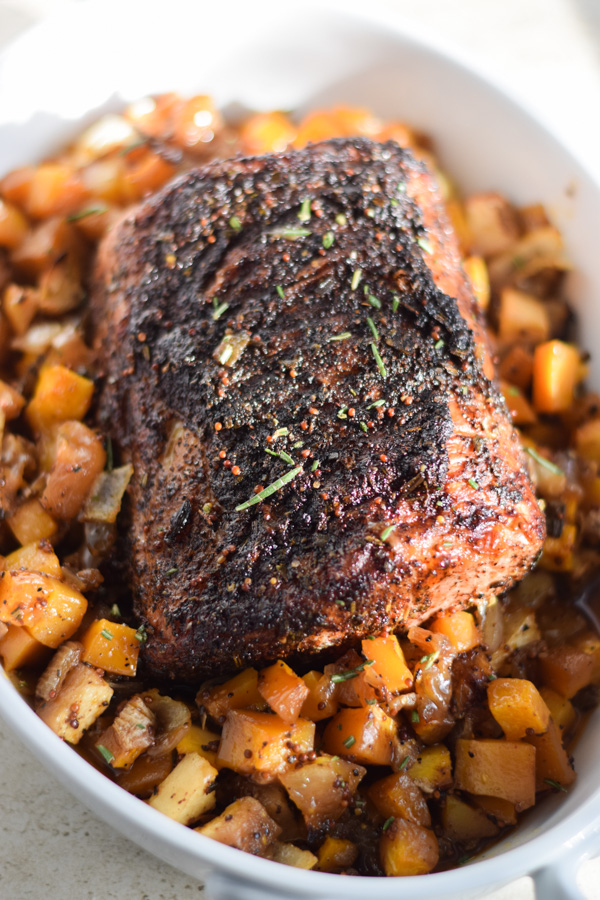 If you're a little intimidated about peeling and chopping a butternut squash, don't be. A sharp knife and a  Y shaped vegetable peeler make it pretty easy. Just make sure to dice it into pretty small pieces (half an inch cubes or so) so that it will cook completely as the pork does.
The only other special equipment you'll need for this recipe are things I would recommend having anyway, because they are super useful: a meat thermometer to get your pork to 145°F and a good pan that can go from stove top to oven for easy clean up.
The only other note I have is to start checking your pork loin at about 45 minutes. It should be at 140°F-145°F, and it will cook just a little bit more on the counter as it rests.

Spice Rubbed Pork with Butternut Squash and Apples
Chili rubbed pork loin roasted with mustard tossed butternut squash, onions, and apples.
Ingredients
2 pound pork loin (not tenderloin)
2 teaspoons kosher salt
½ teaspoon black pepper
2 tablespoons fresh rosemary, removed from the stem, chopped very finely
1 tablespoon ground cumin
2 tablespoons chili powder
2 tablespoons coarse ground mustard
1 tablespoon apple cider vinegar
2 tablespoon extra virgin olive oil, divided
pinch each salt and pepper
2 cups butternut squash, peeled and chopped into half inch cubes (this was about half a squash)
½ cup onion, chopped into half inch pieces
1 large apple, peeled and chopped into half inch pieces
Instructions
Preheat oven to 425°F
Pat dry pork loin with a paper towel.
In a small bowl, mix together salt, pepper, rosemary, cumin and chili powder. Sprinkle all over pork loin and rub into meat. Set aside while you work on the vegetables.
In a large bowl, whisk together mustard, apple cider vinegar, 1 tablespoon of olive oil, and a pinch each of salt and pepper. Add butternut squash, onion and apple and toss to combine.
Over medium high heat, heat the remaining 1 tablespoon of olive oil in a large oven safe skillet. When the oil is hot, add the pork loin, fat side down. Cook for about 3 minutes, until the outside is golden brown. Turn and repeat on all sides. This step should take 10-12 minutes total. When done, face the fat side of the pork up.
Turn off burner and add butternut squash mixture to the skillet around the pork.
Transfer pan to the oven. After about 45 minutes, check the internal temperature of the meat using a meat thermometer. When the meat reaches 140°F-145°F, remove from the oven. Squash and apples should be fork tender.
Let the meat rest in the pan for about 10 minutes before slicing and serving. Make sure you serve with the juices in the bottom of the pan, because they are totally delicious.
Disclaimer: This post contains affiliate links,
and I earn a commission if you purchase through the links. I have linked to products and companies that I use and trust.