In case you didn't know, today is a national holiday. It's National Margarita Day, also known as the best day of the year. The Dallas weather apparently knew, because it is a gorgeous, sunny, warm day, and to celebrate I have made for you (and mostly me) Strawberry Chipotle Margaritas!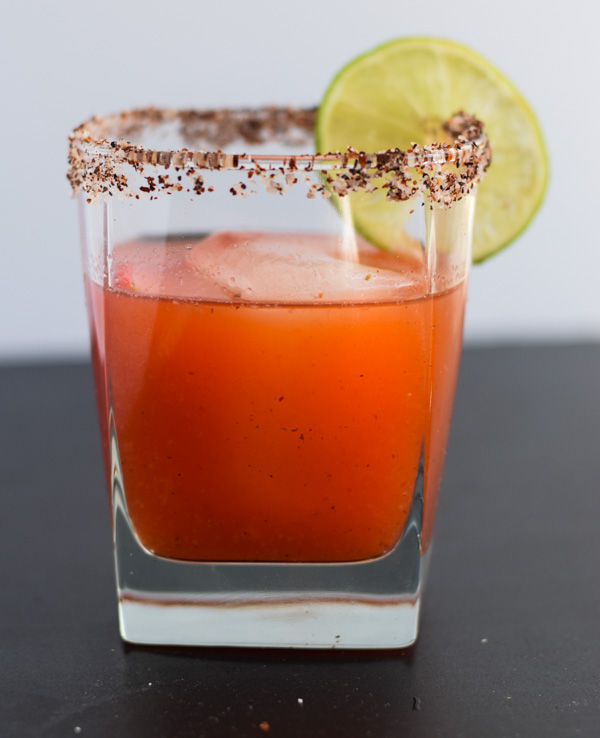 Let me just tell you how much I love margaritas. I'm usually a craft beer drinker, but if I'm going to order a mixed drink, the margarita is by far my favorite. My heaven may just be an outdoor patio with chips and salsa and margaritas. Especially since the next scene in this sequence involves me chowing down on some enchiladas! There is just something about the tart lime with the slightly sweet triple sec and boozy tequila and then the salted rim! Not to mention the fact that the classic margarita is a blank canvas for about a million variations. Rocks or frozen, strawberry, mango, sangria swirl, now bartenders are even throwing avocado in the mix! When it comes to margaritas you are limited only by your imagination.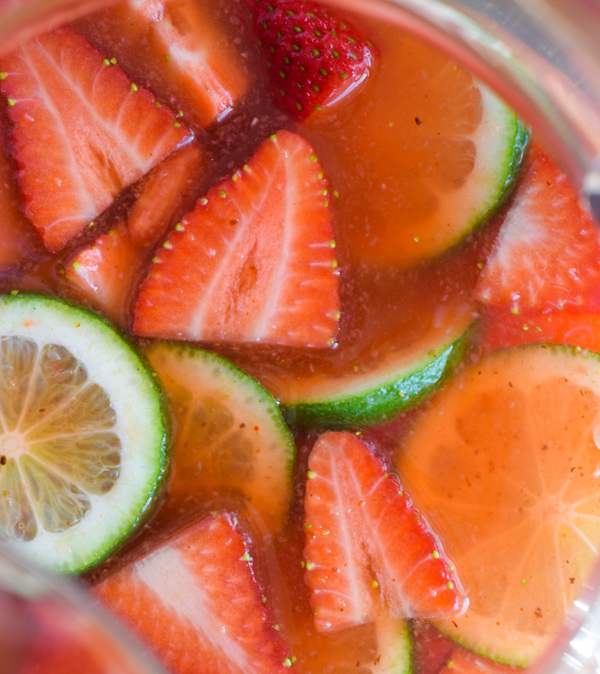 I remember the first time I had a spicy margarita pretty vividly. I was at Taco Diner in Uptown Dallas with some work friends. It was a frozen margarita (which I normally don't order because brain freezes kill my drinking experience) laced with jalapeños and it was SO GOOD. While I had never really considered drinks to be a good vessel for spicy food, this adult Slurpee was everything I could want and more. The spicy jalapeño made me slow down just enough to not get a brain freeze, but was so interesting that I had to keep going back for more.
So when I found out that today is National Margarita Day, I knew for sure that I was going to try to mix up a spicy margarita. As I said, if I go out, I normally order a margarita on the rocks because I have an easier time drinking them. Plus, I didn't really want to have to drag out the blender just to get a buzz going. Not having any jalapeños in the house inspired me to look elsewhere to get that spicy kick, and the can of chipotles in adobo was the obvious and delicious choice. Fun fact: chipotle actually goes really well with strawberries AND the pretty red color of the berries masks the brownish hue of the pepper. I decided to make these pitcher margaritas for a few reasons. 1. If I'm going through the trouble to mash (and strain) berries, I want to use all of them in one sitting. 2. Who wants to keep mixing drink after drink in a cocktail shaker? Not me. 3. It's an excellent excuse to invite friends over.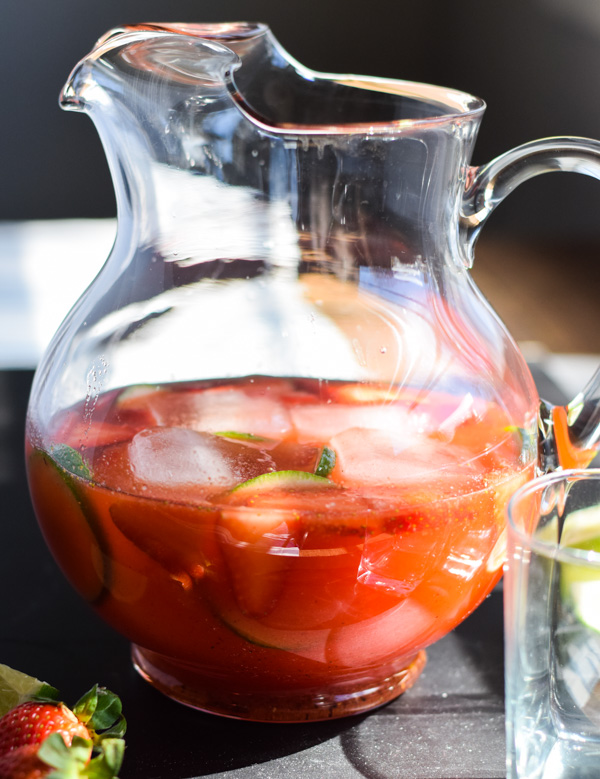 In the recipe I only used 1 tablespoon of sugar, because my strawberries were pretty sweet. Before mashing them, taste yours to make sure you like them. If you think they need more sugar, add about a teaspoon at a time they taste good to you. I only added 1 pepper because I wanted my drinks to be crowd pleasers. If you know your crowd is filled with hot heads, add a second pepper. These margaritas are perfectly tasty on their own, but if you want something a little less strong, after pouring them into glasses  add about 2 ounces of sparkling water. You will not regret it.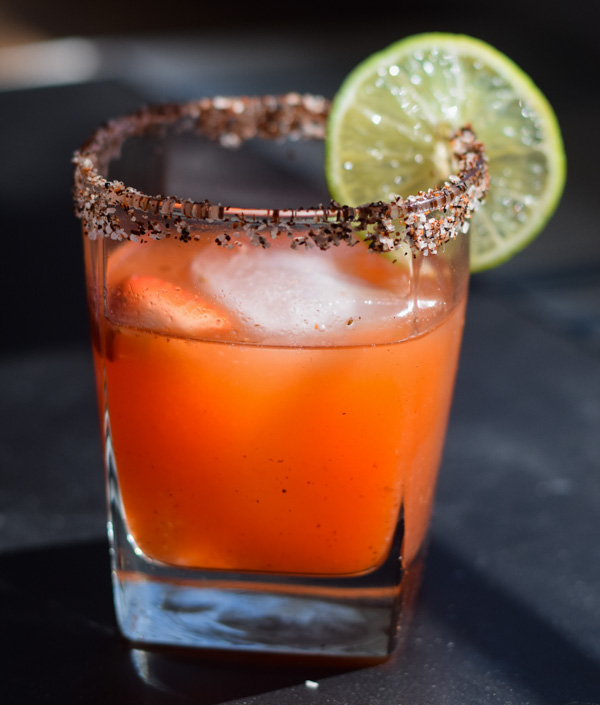 So whip these strawberry chipotle margaritas up for some midweek fun, but remember to drink responsibly!

Strawberry Chipotle Margaritas
Slightly spicy strawberry margaritas made in a pitcher for easy entertaining.
Ingredients
1 pint strawberries, divided, sliced
1-2 tablespoons sugar
1-2 chipotle peppers with sauce, chopped
½ cup plus 2 tablespoons freshly squeezed lime juice, divided
½ cup triple sec
1 cup tequila
2 tablespoons kosher salt
2 tablespoons chili powder
1 lime sliced (for garnish)
Instructions
Stir 1 cup of the strawberries with 1 tablespoon of sugar in a medium bowl. Add more sugar depending on the sweetness of your berries. Add the chipotle pepper and let macerate while mixing other ingredients.
In a pitcher, stir together ½ cup of lime juice, triple sec, and tequila.
Put 2 tablespoons of lime juice in a shallow dish. In another shallow dish, mix the salt and chili powder. Using a margarita or rocks glass, dip the rims of the glasses first in the juice, then in the salt mixture. Set aside.
Mash the strawberries and peppers with a fork or muddler. (If you have an immersion blender, now would be a great time to use it.) OPTIONAL: Strain the strawberry mixture through a mesh sieve to remove any pulp.
Add strawberry mixture to the pitcher. Add reserved strawberries and sliced lime.
Fill salt rimmed glasses with ice, and serve.