There are a few recipes that I remember vividly from growing up. My mom always had a few standby recipes that she'd make often–usually big batch recipes that she could use for multiple meals. Specifically, I remember chili, spaghetti sauce, and chicken salad, because those were always my favorites.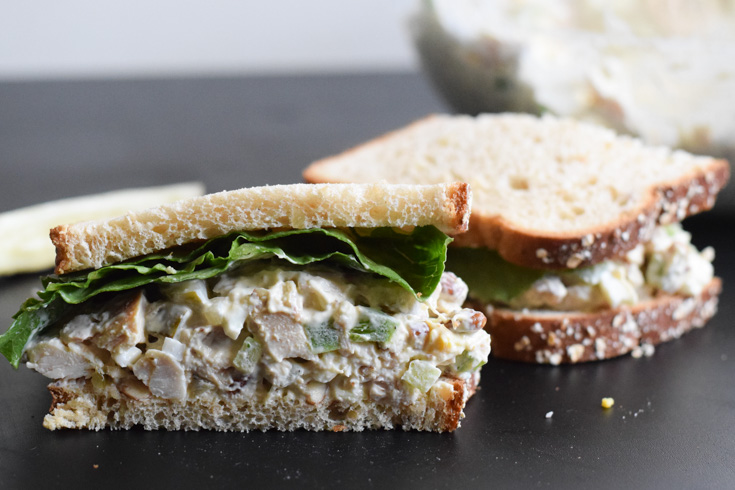 When I was a kid, my parents both worked full time and were always shuttling my brother and I to whatever sports practice or school event we had, and it all seemed so easy until I grew up. Now I wonder how they did it. Particularly my mom, because she did all the cooking. How did she work all day and get home and cook a meal for all of us that we would all eat? We were all different types of picky too. I wasn't much of a meat eater at the time (a trait that I no longer possess), but I would eat almost any vegetable that she put in front of me. My dad and brother were almost the exact opposite. Somehow my mom managed to work around it all. It's more than a little impressive when I think about it.
I know now that her standby recipes are a large part of her success. She found recipes that we all enjoyed, and she could make in big batches and freeze for later or use to feed us all lunch for the week. I don't think there was ever a time in my childhood that there wasn't a big orange tupperware of spaghetti sauce stashed in our freezer. Brilliant, really. Except it's only mostly true. While my mom always made these foods, she never had a recipe (still doesn't). I'm still not sure she has ever made the same chili twice. It was always mostly the same, but she never used a measuring spoon or wrote anything down so who knows.
My mom was also no stranger to the supermarket shortcut. When stores first started selling rotisserie chickens, she bought them. Sometimes we ate them as they were with green beans and the chicken flavored Rice-a-Roni, but when we were really lucky, she made chicken salad with them.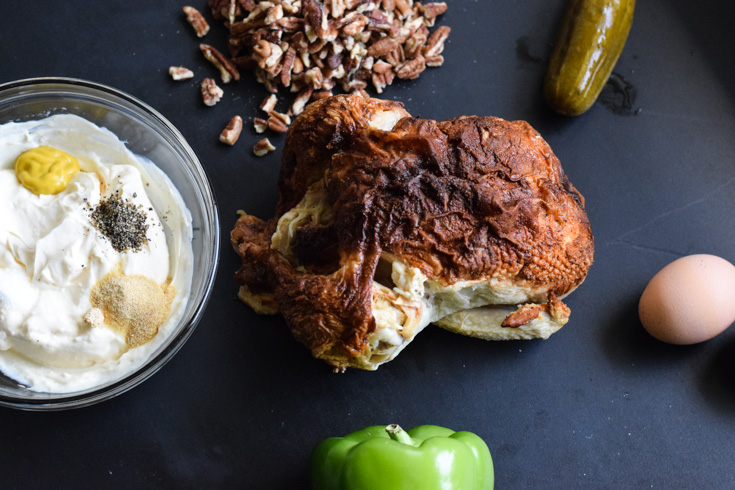 This another one of those recipes that she didn't write down, so when I grew up I had to figure it out on my own from what I could remember. She used to put celery in hers, but I don't really love celery (read: I can't stand celery), so I use green pepper in mine. Sometimes she didn't put pecans in hers, but for me they are nonnegotiable. A few years ago I found out she doesn't actually put mustard in hers either, but I've grown to like mine a lot so I left it in.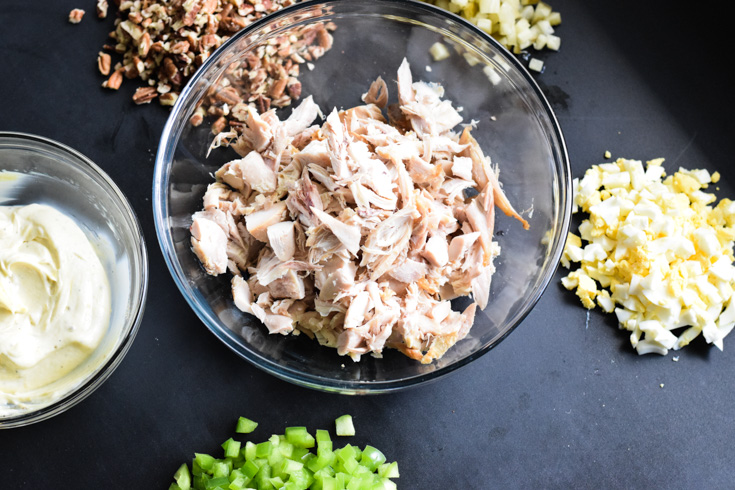 This Super Easy Rotisserie Chicken Salad is the written down version of probably 20 years of tinkering between the two of us. It's filled with different textures and flavors, it's familiar and comforting. It makes for a great lunch on a couple slices of bread, on crackers, or on a fork.
This recipe features a couple hardboiled eggs. If you're not sure how to hard boil an egg, here's a quick rundown:
Put however many eggs you want to boil in a saucepan with a lid, make sure they are in one layer.
Cover the eggs with about an inch of cold water.
Bring to a boil over medium high heat.
As soon as the water boils, turn off the heat and put the lid on the pot. Keep the eggs this way for exactly 10 minutes.
Run under cold water until cool or submerge them in ice water.
Pro tip on peeling eggs: If you crack the bottom of the egg and peel away some of the shell, then run a spoon between the egg and the shell, you'll save yourself a lot of trouble.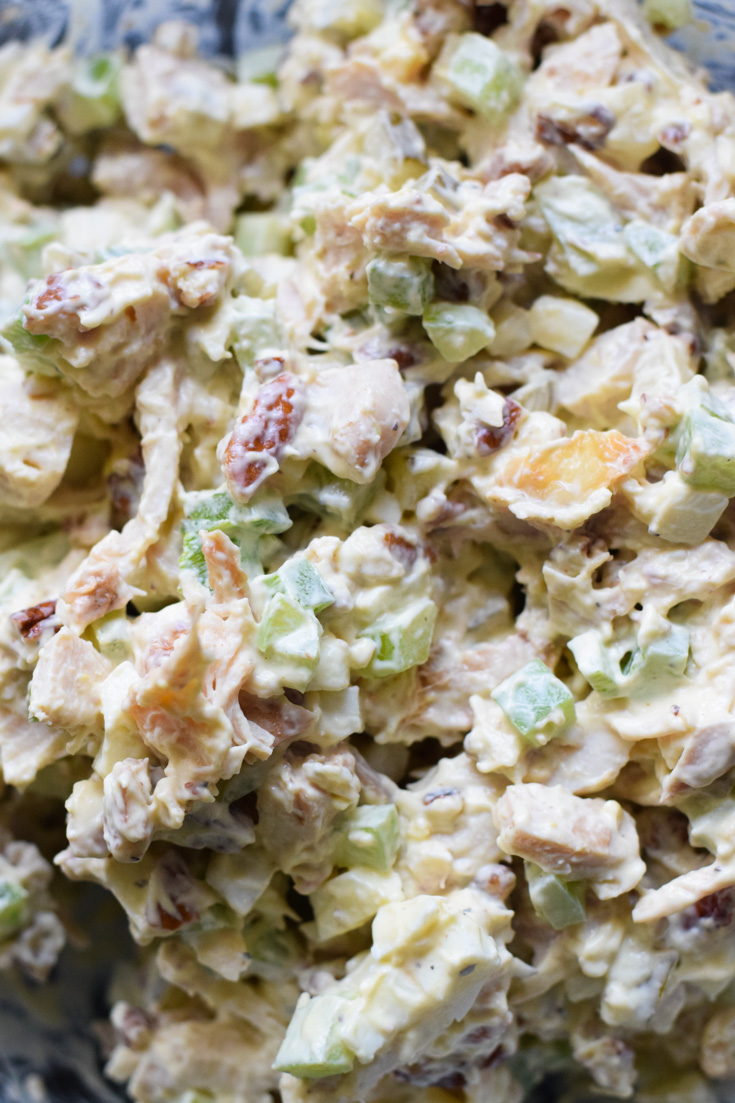 Also, whatever you do, DON'T THROW AWAY THE CHICKEN BONES. When you're all done getting the meat from the bones of the rotisserie chicken you will have chicken bones probably with some meat on them still and the skin of the chicken. Put these in a large freezer bag and pop them in your freezer. You can save yourself some money and use them to make chicken stock when you have some time (or a slow cooker). I'll post that process the next time I make stock.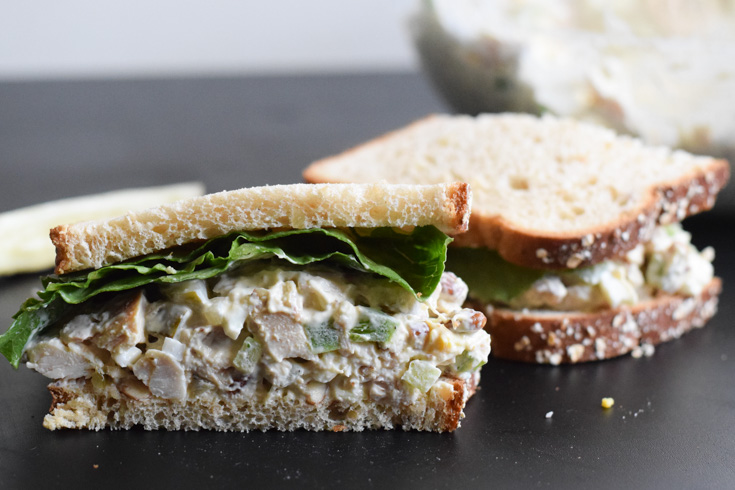 Super Easy Rotisserie Chicken Salad
Creamy chicken salad made with a supermarket shortcut.
Ingredients
1 rotisserie chicken
2 eggs, hardboiled, diced
1 green bell pepper, diced
½ cup pecans, chopped
1 medium dill pickle, diced
1 cup mayo
1 teaspoon yellow mustard
½ teaspoon garlic powder
½ teaspoon kosher salt
¼ teaspoon black pepper
Instructions
Remove meat from rotisserie chicken, do not use skin. Shred or chop into ½ inch chunks.
In a large bowl, combine chicken, hardboiled eggs, bell pepper, pecans and pickle.
In a small bowl stir together mayo, mustard, garlic powder, salt and pepper.
Add mayo mixture to chicken mixture. Stir to combine.
Serve as a sandwich, on crackers, or however you like! Store in an airtight container in the refrigerator for up to 5 days.
Note: the link in this post is an affiliate link, which means that if you click the link I may receive compensation. I only link to products and brands that I use and trust.