I'm generally not very picky about food, but there are a few things that I will almost never order at a restaurant, or I try to avoid at potlucks and cookouts if I can. Chicken salad, coleslaw, and most of all potato salad. It's not that I don't like potato salad, I just don't like most potato salads. I like the one my mom makes, and a few others, but most others are too mushy, or too goopy, or too sweet, or too one note. What's with cooking the potatoes to the point that they are basically paste? Or adding so much mayonnaise and mustard that it's soup? Or adding so much sugar that it tastes like a dessert?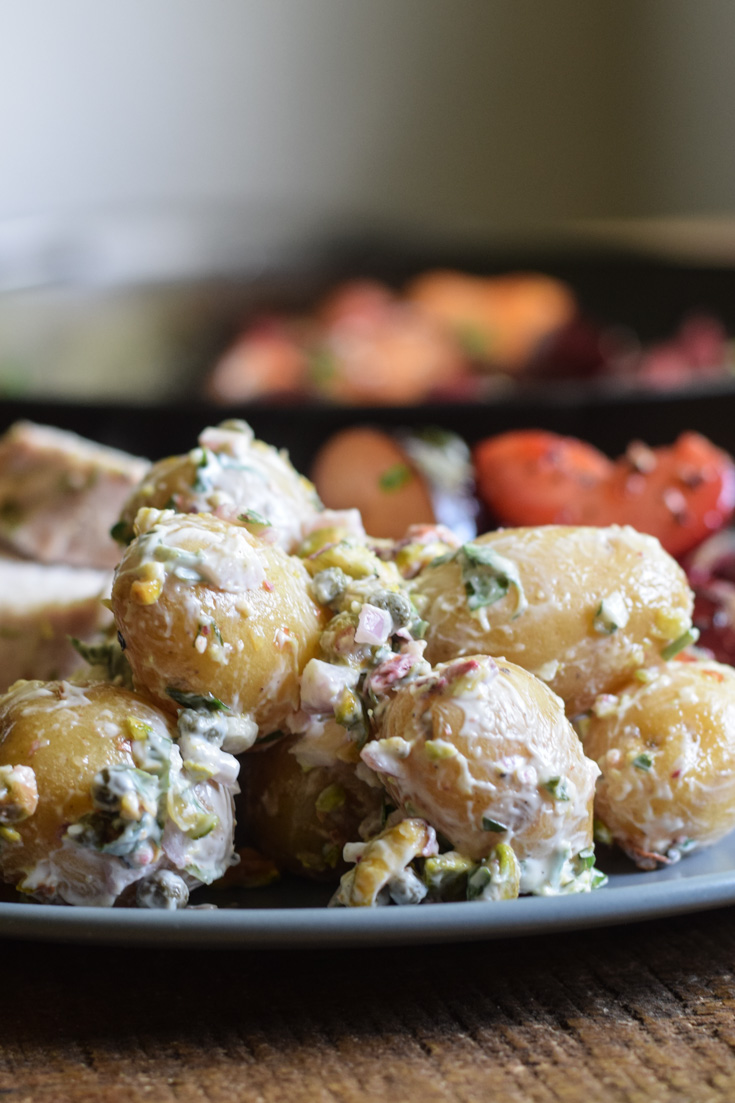 So when I saw this chart, I knew I had to see what I could come up with. After trying a few things, like roasting the potatoes first and adding mustard to the dressing, I served this final recipe at our 4th of July cookout and our friends went nuts over it. Seriously, you'd have thought there was crack in it.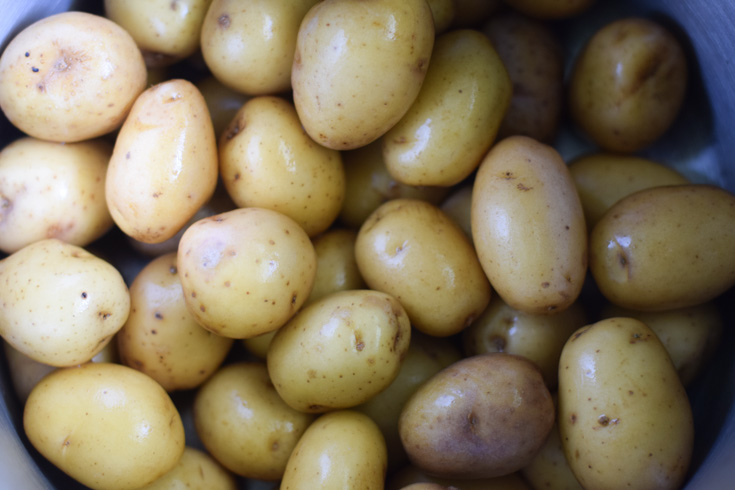 When it comes to the recipe, you could use any potato you want, but I love these little baby yukon gold potatoes. I don't have to peel them, I only chopped the ones that were quite a bit bigger than the others, so they are less work than other potatoes. Plus, they're just really cute. In my grocery store, they are sometimes labeled as "creamer potatoes."
I season the water I boil them in with a lot of salt and some vinegar. Adding the vinegar to the water flavors the potato all the way through, as does the salt. The rest of the ingredients are all about packing in a ton of flavor and texture, but you have some options with those, too. I'm a firm believer in making recipes customizable, so you know that if you don't like a certain ingredient you could substitute something else. Full disclosure: I rarely make a recipe the same way twice, so it's nice to be able to make different versions of the same thing.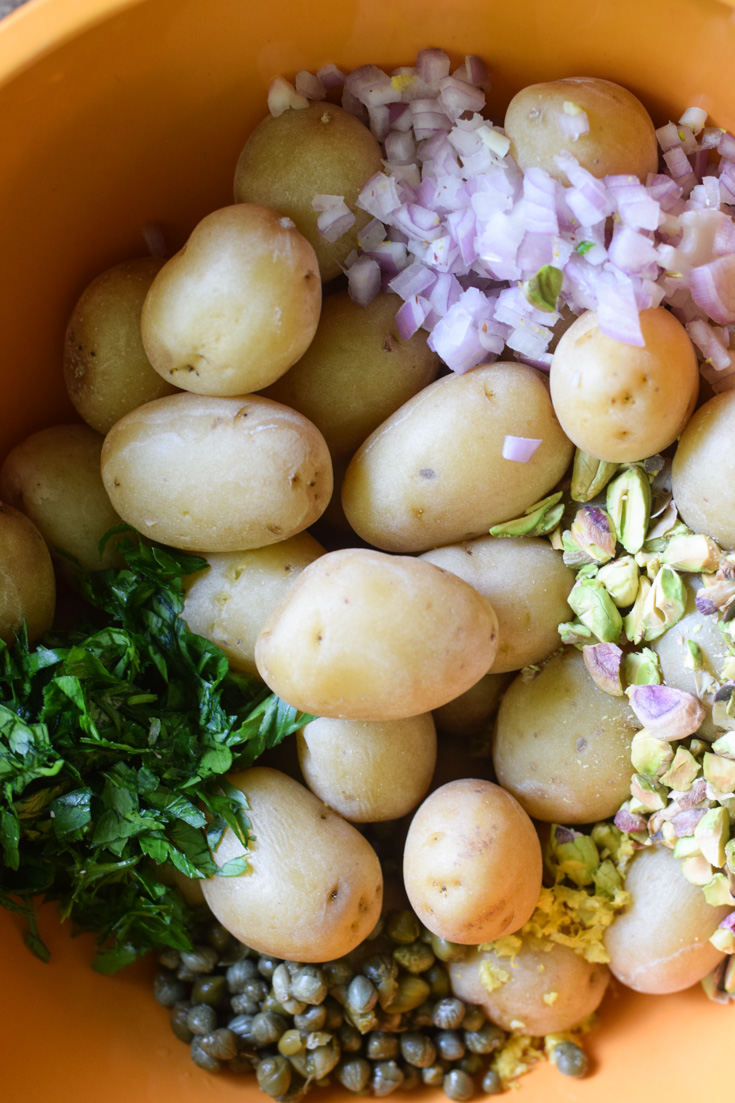 The pistachios and shallots are welcome crunchy bits, the pistachios add nuttiness and the shallots a welcome oniony garlicky kick without overpowering the whole salad. The lemon juice and zest brighten up the whole thing and thin out the mayo.
When it comes to the herbs, I've used both parsley or mint. I personally prefer the mint, it's unexpected and interesting. That being said, at our cookout I used parsley because it's less polarizing, and people seriously would not stop talking about this potato salad. The capers are a totally optional add in. I like them for their brininess, but you could add chopped pickles or leave them out all together.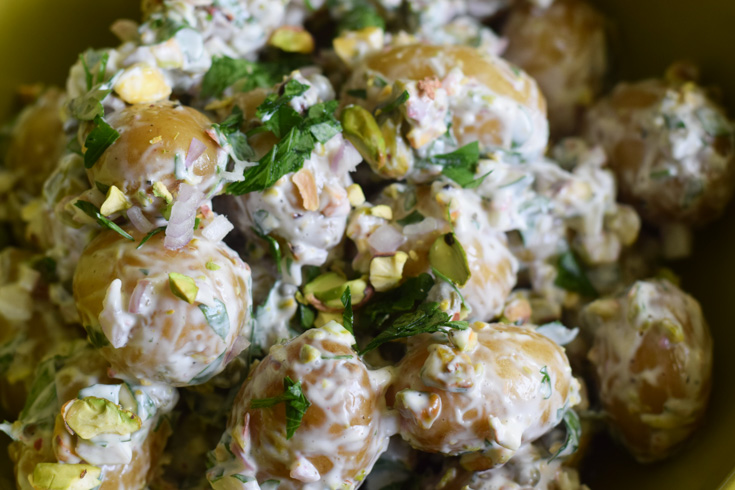 All in all, if you're looking for a new spin on an old cookout standby, look no further. Let me know what you think in the comments or if you try a different combination from the chart!

Anything But Traditional Potato Salad
A perfect summer cookout side dish recipe. A tangy, herby potato salad with crunchy pistachios and briny capers.
Ingredients
2 pounds baby yukon gold potatoes
1 tablespoon salt
¼ cup white vinegar
½ cup coarsely chopped pistachios
2 tablespoons shallots, minced (1 small shallot)
1 tablespoon lemon juice, plus the zest of 1 lemon
2 tablespoons parsley or mint, chopped
1 tablespoon capers, drained (optional)
½ cup mayo
salt and pepper to taste
Instructions
Cut larger potatoes into bite size chunks. Put potatoes, tablespoon of salt, and vinegar in a large pot. Cover the potatoes with water by 1 inch. Bring to a boil over high heat. Boil until potatoes are fork tender. Depending on the size of the potatoes, this could take 15-30 minutes.
Drain potatoes and allow to cool.
When potatoes are cool, add to a large bowl. Add the rest of the ingredients and stir to combine. Taste and adjust seasonings to taste. Serve immediately or cover and refrigerate until ready to serve.
SaveSave