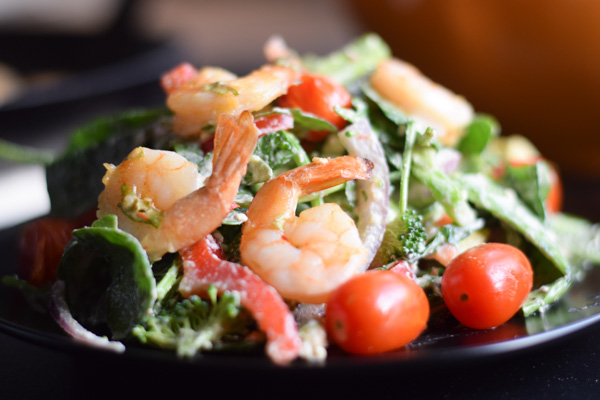 It's that time of year when I have to stop myself from making pasta for dinner every night. The weather sucks, even here in Texas (50° and rainy constitutes bad weather, okay?), all of the good shows are on hiatus, and all I want to do is sit around in my pajamas with a big bowl of cheesy pasta and binge watch Sherlock on Netflix.
Is that so bad? Yes. Yes, it is. Especially when spring comes around, and I can't fit into any of my shorts.
That's when I have to force myself to remember that I do actually like vegetables. Kind of a lot, actually. Plus, I can totally sit around in my pajamas with a big bowl of salad and binge watch Sherlock, and then I won't feel bad about that glass bottle of wine I'm drinking, because SALAD!
This Broccoli and Arugula Salad with Harissa Shrimp is actually tasty enough that I don't even remember that I wanted pasta. It has A LOT going on in it (don't get intimidated by the number of ingredients!), it is really filling, and it comes together in no time.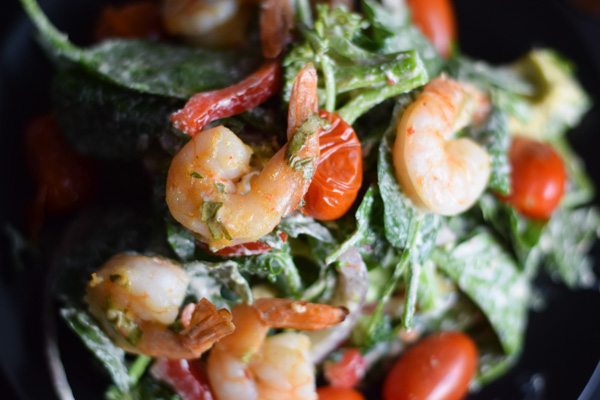 If I had to describe this salad in one word it would be: contrasts. Let me 'splain. (Read in the voice of Inigo Montoya.) This salad has contrasts in:
texture: crunchy things and creamy things and… other crunchy things
flavors: salty, spicy, tangy, nutty, avocado-y (that's totally a thing)
temperature: warm shrimp and tomatoes with cool broccoli and veggies and harissa yogurt dressing.
What more could you want?!
If you're slightly intimidated by the words "arugula" and "harissa" don't be. Arugula is simply a type of lettuce, super easy to find in the grocery store with the other packaged salads. It's kind of peppery in flavor. I usually buy the arugula/spinach mix. Harissa is a spicy condiment from North Africa made from roasted chili peppers, oil, and spices. I promise I will post more recipes with it, so you don't buy a jar just for this one dressing. In most grocery stores it's in the international food aisle, but in mine it's in the aisle with pasta sauces and prepared pestos.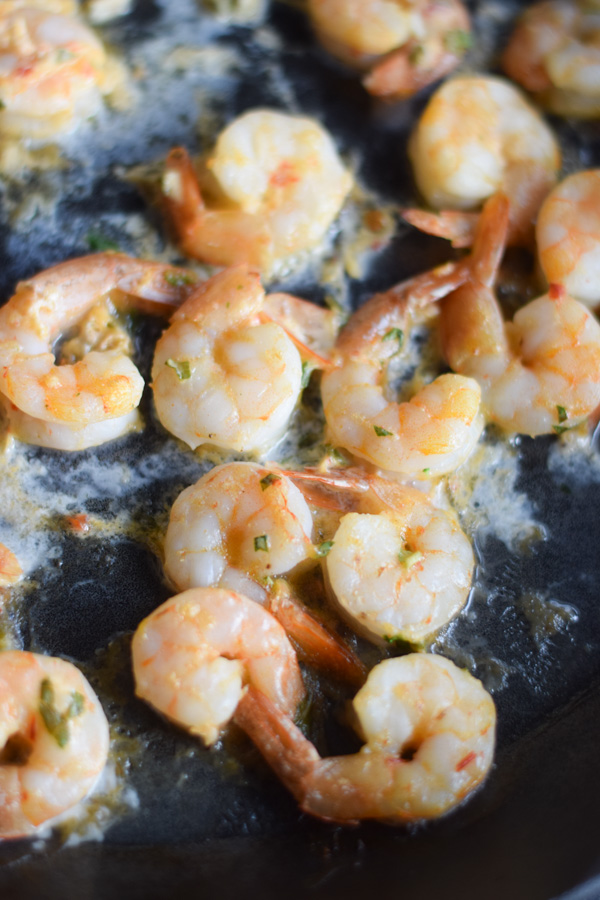 I used shrimp in this recipe because it was on sale (seeing a pattern?), but you could just as easily marinade chicken. Save yourself a ton of time and energy and buy shrimp that is already peeled and deveined. Peeling shrimp is relatively easy, but there is no reason to devein shrimp on your own. None. It's mind numbing and time consuming and absolutely not worth it.
If you use your oven time wisely, you'll be ready to eat in 40 minutes tops. While your oven is preheating, you can get your marinade/dressing ready. The tomatoes go in the oven first because they'll need more time to cook than the shrimp, which gives you time to let the shrimp hang out in a bit of the dressing and chop up all the other vegetables. Then, the shrimp cook, and you can finish chopping and pour yourself a drink. When the tomatoes and shrimp come out of the oven, toss them with the rest of the salad, and you're ready to eat. Easy peasy lemon squeezy. Literally.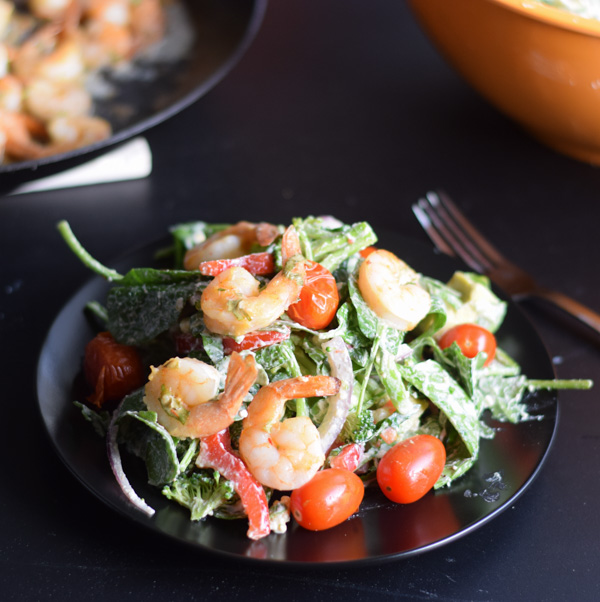 Broccoli and Arugula Salad with Harissa Shrimp
Veggie filled salad with shrimp and a spicy Greek yogurt dressing.
Ingredients
1 cup Greek yogurt
juice from 1 lemon
1 tablespoon harissa (more or less to taste)
1 tablespoon extra virgin olive oil
1 pint cherry tomatoes
12 ounces shrimp, peeled and deveined
5 ounce package of arugula/spinach mix
2 cups broccoli, chopped (about 2 small crowns)
½ cup red onion, thinly sliced (half a medium onion)
1 red bell pepper, thinly sliced
¼ cup fresh mint, coarsely chopped
2 ounces. feta cheese, crumbled
1 avocado, chopped
¼ cup walnuts, chopped
Instructions
Preheat oven to 350°F
While the oven is preheating, combine yogurt, lemon juice, harissa and olive oil in a small bowl or mason jar. Taste, and add salt as needed.
Add about 3 tablespoons of the yogurt mixture to the shrimp in a small bowl and toss to combine. Set aside.
Spread cherry tomatoes on one half of a sheet pan. Cook in oven for 15 minutes.
After the 15 minutes is up, leaving the tomatoes on one side of the sheet pan, spread the shrimp out on the other side. Cook the tomatoes and shrimp in the oven for 15 minutes more, or until the shrimp are pink and opaque and the tomatoes have burst.
While the shrimp cook, combine the rest of the ingredients in a large bowl. Use the yogurt and harissa mixture to dress your salad. I used most of the dressing, but use as much or as little as you like.
Add the shrimp and tomatoes to the salad, toss and serve.