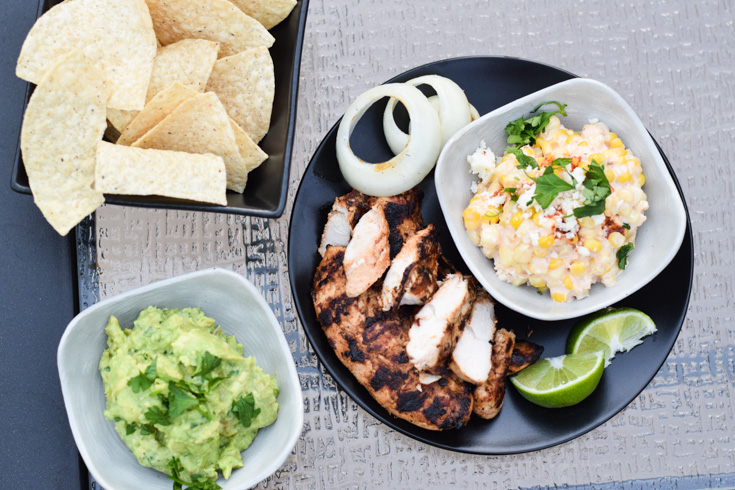 In part two of this little dinner miniseries, I'm featuring this grilled corn esquites. If you don't know what esquites is (are? is? are?), it's a lot like elotes, but off the cob… Don't know what elotes is (are? is?)? Well, let me introduce you. Elotes is a Mexican corn on the cob slathered in mayonnaise or crema and seasoned with lime juice and chili powder or hot sauce and then covered with cotija cheese.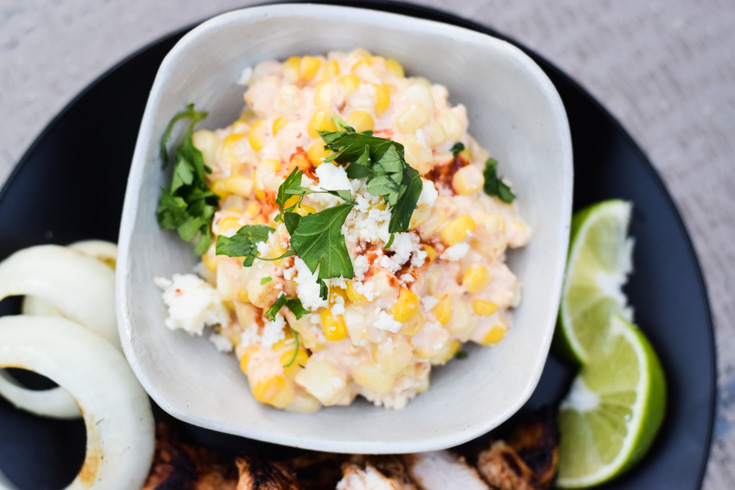 It's basically one of the best foods EVER MADE. The combination of the sweet corn kernels with creamy mayo, and tangy lime, and spicy hot sauce, and the mild saltiness of cotija. It's one of the many gems in Mexican food, and while I love ordering it at taco shops, it's pretty easy to make too.
Here in my part of the world, we have had prime grilling weather, and it coincides with the early part of sweet corn season for us. So of course, I took this opportunity to use our new grill for the corn. I was going to be out there anyway to grill the chicken, so why not? Grilling corn is ridiculously easy, you just leave it in the husk and pop it on the grill for about 10 minutes turning it a couple times. If you don't have a grill, no worries you can easily boil, oven roast, or even microwave it. Please, please, please, just don't use canned corn. It's bad. Frozen corn will work in a pinch, but the texture and flavor just isn't as good.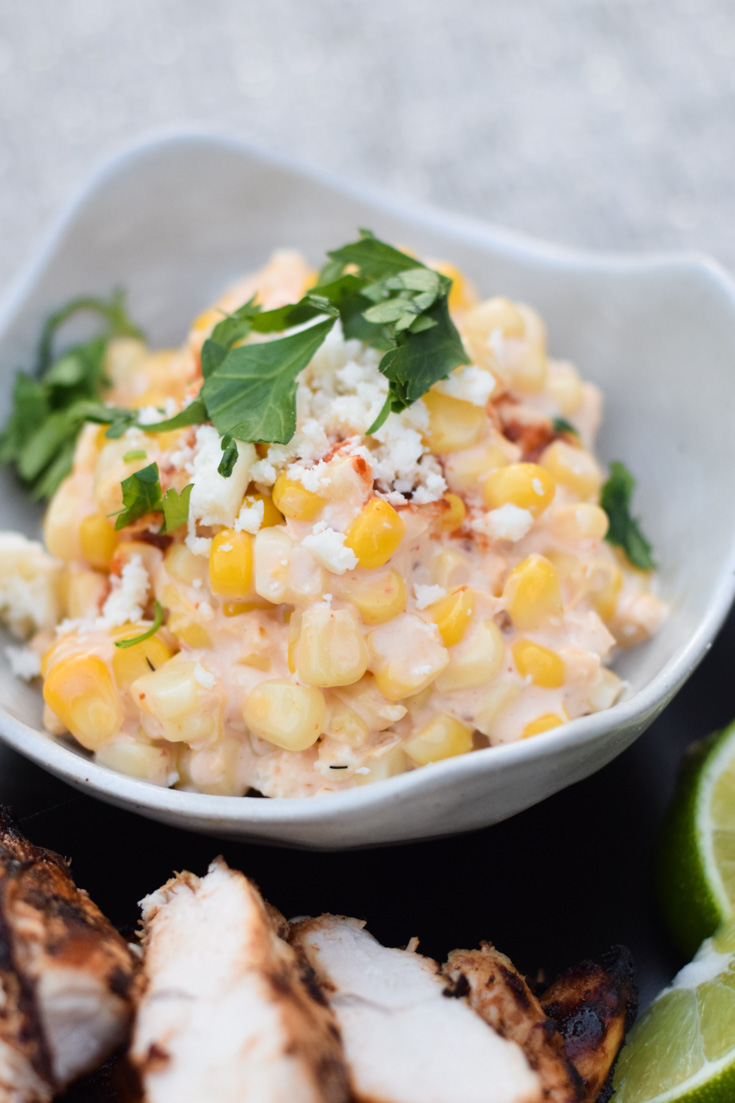 A quick tip for getting the corn out of the husk and off the cob:
If you grill or roast the corn with the husk on, give it a couple minutes to cool a little before you start husking. You want the corn to still be warm, but you don't want to hurt yourself. Using a chef's knife, cut off the bottom of the corn where the husk meets the cob. Then peel of the husk. The silks should come pretty cleanly. Then to easily get the kernels off the cob you can either use a bundt pan and place the corn on top of the hole in the middle, or put a small bowl upside down in a larger bowl and use that as a stand. Stand the corn, cut side down, on the bowl or middle part of the bundt pan, and using your knife cut straight down the cob trying to get as much kernel as possible. This method stops the kernels from going in a million directions, and if you use the bowl method, it's already corralled in your mixing bowl.
Then the rest of the recipe is as easy as dump and stir.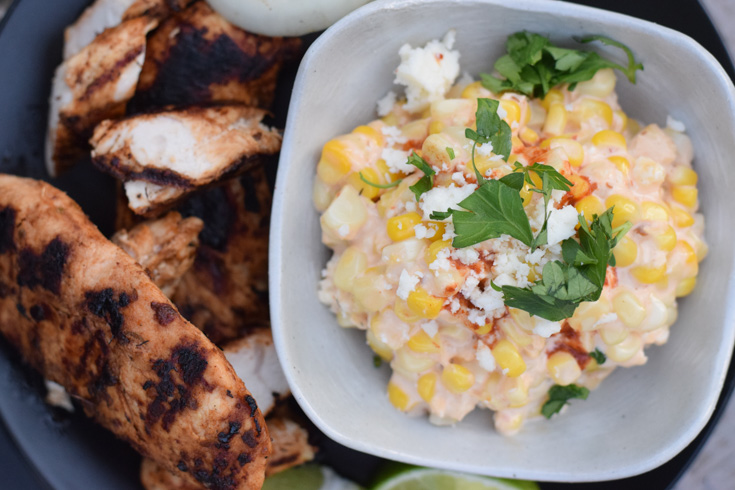 These days you can find cotija cheese in most grocery stores. It's a crumbly, salty, mild cheese. If by chance you can't find it, you can use feta or even parmesan. For the hot sauce or chili powder it's really up to you. I almost always use hot sauce, because for my husband and I, the spicier the better, but if you want a mild heat I would start with a light sprinkle of chili powder. I've used sriracha or Frank's in a pinch, but pretty much any hot sauce will work. This time I used this one and so far, it's my favorite.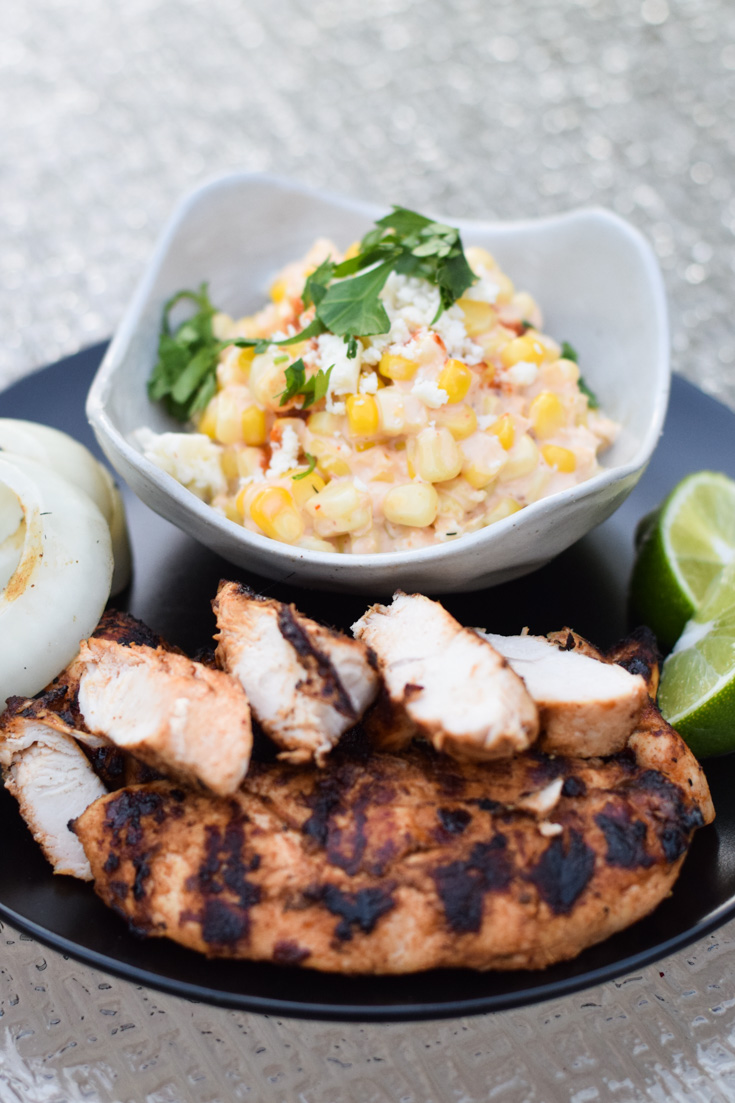 Let me know if you make esquites and how you like them in the comments!

Grilled Corn Esquites
Grilled corn taken off the cob and mixed with creamy mayo, lime juice, cotija cheese and hot sauce.
Ingredients
3 ears fresh corn
3 tablespoons mayonnaise
juice from half a lime
2 ounces cotija cheese, crumbled
hot sauce or chili powder to taste
2 tablespoons chopped cilantro
Instructions
Place corn, still in husks, on a hot grill (450°-500°F) for about 10 minutes turning often. Don't worry if the husks burn. Remove and let cool until you can handle them and remove the kernels.
In a medium bowl, stir together warm kernels, mayo, lime juice, cheese and hot sauce or chili powder to taste. Garnish with cilantro. Serve with more hot sauce or chili powder and lime wedges if desired.
Disclaimer: Some of the links in this post are affiliate links. This means if you click the link and buy a product, I could make money. I only link to products that I have used and trust.
SaveSave